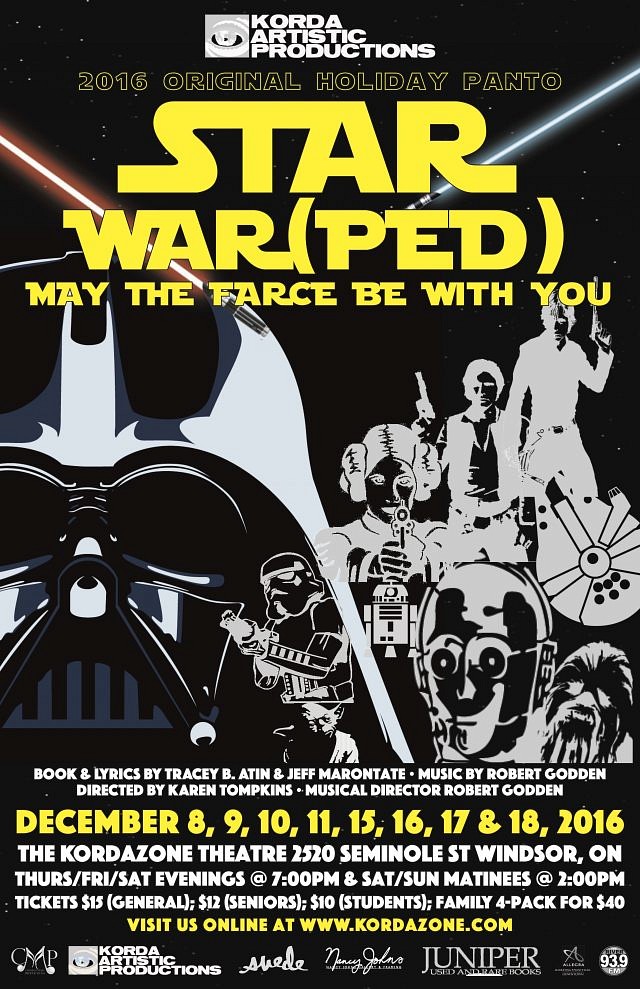 Korda Artistic Productions presents the 2016 Original Holiday Panto
STAR WAR(PED): May The Farce Be With You
Book & Lyrics by Tracey B. Atin, with Jeff Marontate
Music by Robert Godden
Directed by Karen Tompkins
WEEKEND # 1
Thursday December 8, 2016 at 7PM – Opening Night
Friday December 9, 2016 at 7PM
Saturday December 10, 2016 at 2PM – Matinee
Saturday December 10, 2016 at 7PM
Sunday December 11, 2016 at 2PM – Matinee
WEEKEND # 2
Thursday December 15, 2016 at 7PM – Pay-What-You-Can Night
Friday December 16, 2016 at 7PM
Saturday December 17, 2016 at 2PM – Matinee
Saturday December 17, 2016 at 7PM
Sunday December 18, 2016 at 2PM – Closing Matinee
TICKETS:
$15 (General Admission); $12 (Seniors); $10 (Students); $40 (Family 4-Pack)
Reserve in Advance by calling Tracey at 519-562-3394 OR
Cash Only Sales 1/2 hour before showtime at the Door OR
Available in Advance at:
-Cardinal Music, 2569-B Jefferson Blvd.
-Nancy Johns Gallery & Framing, 4755 Wyandotte St. E.
-Juniper Used & Rare Books, 1990 Ottawa St.
LOCATION:
All Performances at
The KordaZone Theatre, 2520 Seminole St.
SYNOPSIS: A long time ago, in a galaxy far, far away… Korda ends our 2016 Season with our latest original holiday panto… an out-of-this-world, space-aged send-up of the interstellar classic and biggest screen fantasy ever! Along with heroes and aliens, space battles and adventure, expect silliness for the kids, naughty jokes for the grown-ups, bad drag, great music, and audience participation for everyone in this original, goofy, delightful all-ages musical production. The Farce is strong with this one…
Location
The KordaZone Theatre
2520 Seminole Street
Windsor, Ontario