Date
Friday March 13th, 2020
Time
7:30pm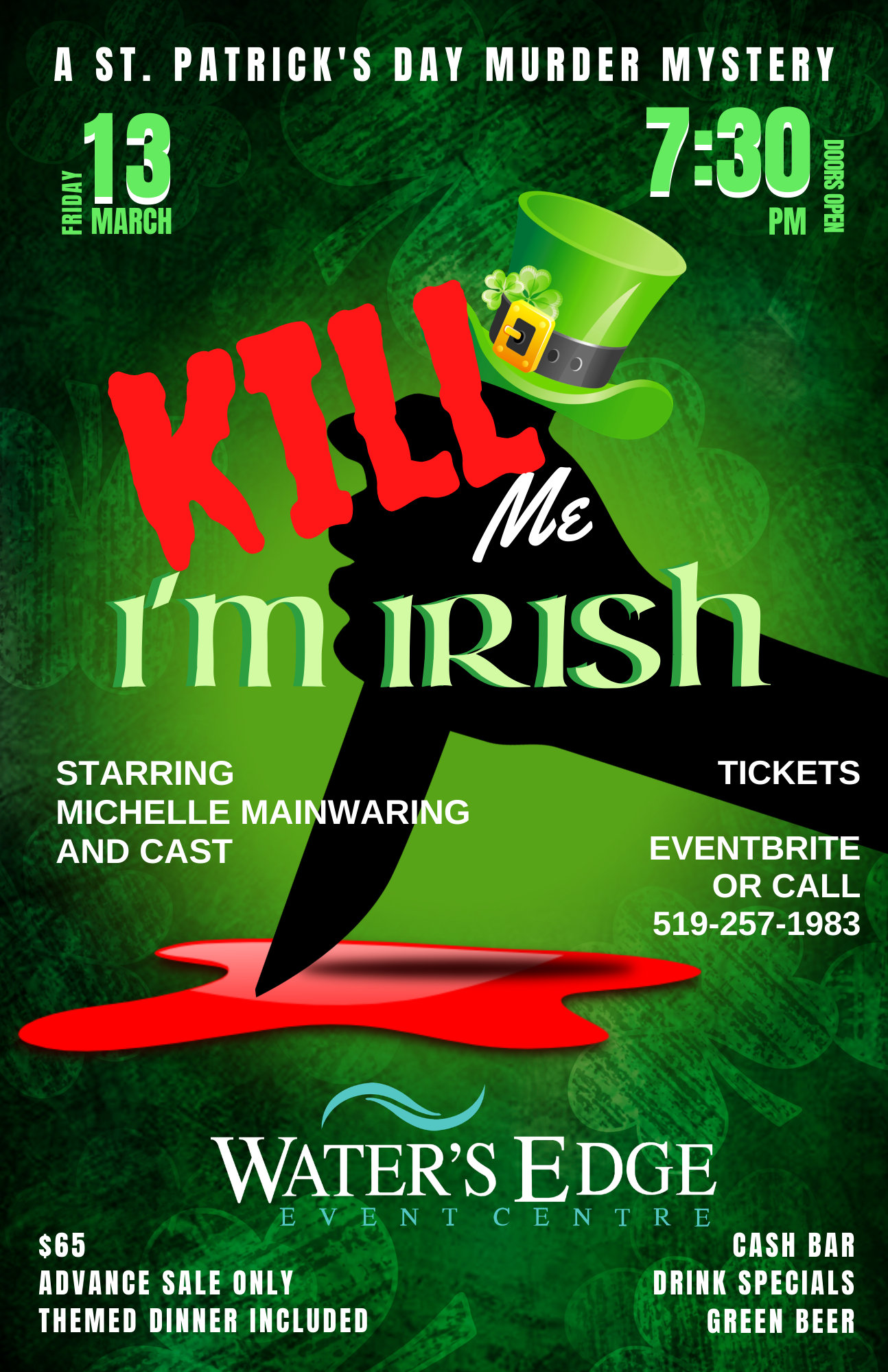 "Kill Me, I'm Irish" A St. Patrick's Day Murder Mystery. Friday, March 13, 2020
Join Windsor's own hilarious Michelle Mainwaring and her talented cast at the Water's Edge Event Centre for a St. Patrick's Day celebration that you won't soon forget! Prepare yourself for an evening of interactive mystery, murder, comedy, a delicious themed dinner, green beer and drink specials!
"Kill Me I'm Irish" is set in 1922 and an Irish mob has travelled from Dublin to infiltrate the prosperous bootlegging gangs in Windsor and Detroit. St. Patrick's Day celebrations are the perfect cover to implement their devious plan for their takeover of booze smuggling operations across the river. Keep your eyes and ears open, you never know what can happen and the coppers are counting on you a catch a rum-running murderer!
Friday, March 13
Doors open at 7:30 pm, show starts promptly at 8:00 pm.
Complimentary afterparty ends at midnight.
Location:
Water's Edge Event Centre
2879 Riverside Drive East, Windsor, Ontario
Tickets are $65/per person.
Available on Eventbrite or contacting the Water's Edge Event Centre at 519-257-1983 or [email protected]
**A limited number of tables for groups of 4-10 persons may be reserved by emailing [email protected]
Ticket price includes:
Murder Mystery Show starring Michelle Mainwaring and cast.
1920's Themed Dinner including tea/coffee and dessert catered by The Other Place Catering
Cash Bar including St. Patrick's Day specialty drinks.
Afterparty until midnight with green beer and drink specials all night long!
FAQ's
THEME/ATTIRE:
Please feel free to dress in any attire you deem appropriate for a St. Patrick's Day gangster rivalry! Black? Green? Party Hats, beads, boas? Whatever you feel, we invite you to really GET CREATIVE! (Dress up is encouraged but certainly not required!)
THE INTERACTIVE MYSTERY ELEMENT:
If you like to be a part of a show, then this is for you! Your evening of "who-done-it" intrigue is set in an interactive theater-type atmosphere, full of improvisational comedy and audience interaction. We will always keep you guessing! Our professional actors assimilate themselves with all of our guests as they help advance the plot line, and a detective leads the investigation to help you tie clues together and solve the mystery for prizes!
DO I HAVE TO INTERACT TO ENJOY THE SHOW?
Your participation is completely optional. "Kill Me I'm Irish" is structured so that even those who choose not to participate as suspects can still choose to be involved and interact, or just sit back and enjoy the show! Everyone attending can still join in on the fun of helping to solve 'who-done-it!' by filling out answer forms. We even award prizes for some of the most correct, comedic and inventive answers!