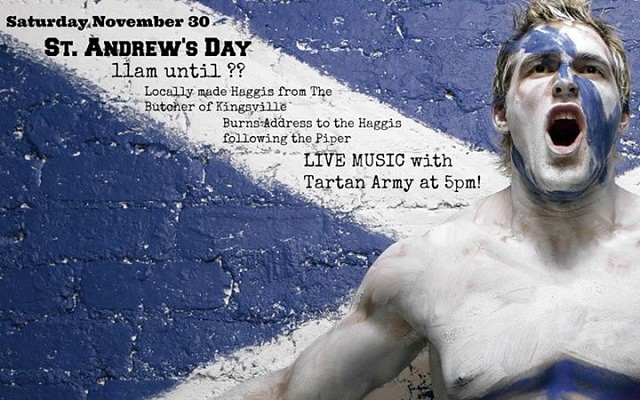 St. Patrick. Everyone knows of this famous Scot who travelled to Ireland, rid them of their snakes, and ended up getting one of the wildest parties North America sees every year. But Ireland isn't the only British country who loves to celebrate their saints – their mainland neighbours Scotland celebrate St. Andrew's Day every November 30th.
For our second straight year, The Manchester Pub is throwing another St. Andrew's Day party, and this year it's going to be bigger and better! We'll be serving some Scottish centric food specials, including our biggest seller last year, locally made Haggis from our friends from The Butcher of Kingsville – many of our Scottish friends who stopped by claimed that it was better than most of the Haggis from back "hame". We'll have loads of Scottish Celtic music playing in the background when we open up, then at 2pm we'll be having our Haggis piped into the restaurant by local piper, Paul Stewart. Once it's made it's traditional rounds of the Pub, the Haggis will be given it's Robert Burns address, as lead by our own Kit McEvoy. We sold out of the Haggis last year and we fully expect another great showing this year!
The Celtic music continues with a live performance by Windsor's favourite Scottish Celtic rock outfit, TARTAN ARMY, who'll be playing from 5 – 9pm, at which time our usual Saturday night troubadour, Jamie Reaume, will take over at 10pm and turn it into a dance party until the end of the night.
Whether your Scottish or not, St. Andrew's is a great cultural opportunity to taste some Scottish fare, sample some Scottish drinks, and pay tribute to the many fine Scots who have helped shape Canada into the great country it is today
Location
The Manchester Pub
546 Ouellette Avenue
Windsor, Ontario