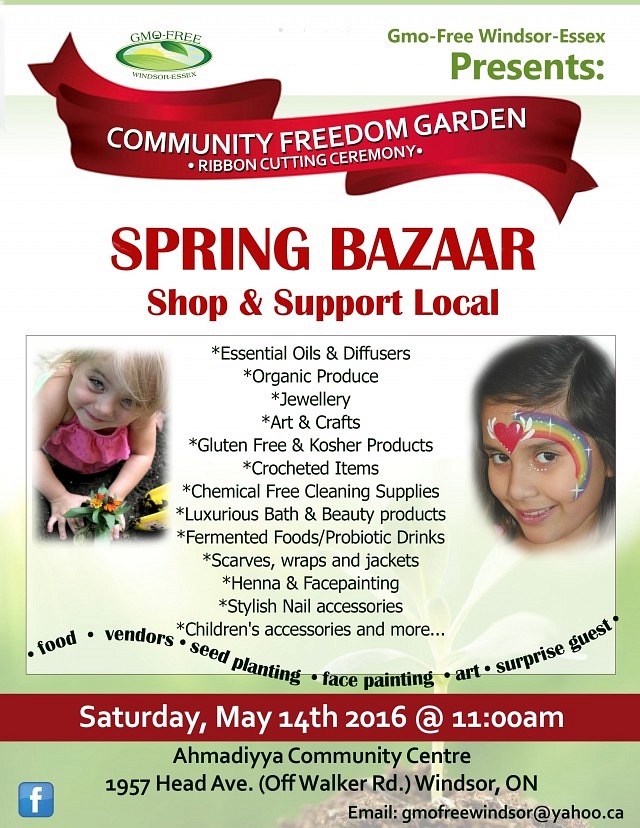 SPRING BAZAAR- SHOP LOCAL :)
Stop by and enjoy the Spring Air as you come out and check out some amazing local vendors. Vendors will be offering a great selection of products including: art, food, crafts, organic and natural products, jewellery and so much more.
*Essential Oils & Diffusers
*Organic Produce
*Jewellery
*Art & Crafts
*Gluten Free & Kosher Goodies
*Crocheted items
*Chemical Free Cleaning Supplies
*Luxurious bath and beauty products
*Fermented Foods/Probiotic drinks
*Scarves, wraps and jackets
*Facepainting & Henna
*Stylish Nail accessories
*Children's accessories and more…
Facepainting, colouring contest and seed planting for children!
We will also be hosting our community garden ribbon-cutting Ceremony with Dr. Shiv Chopra, Cheryl Hardcastle & Tracey Ramsey (local MPs).
ADMISSION: by donation
RSVP LINK: https://www.facebook.com/events/580693345432173/
Location
Ahmadiyya Community Centre
1957 Head Avenue
Windsor, Ontario