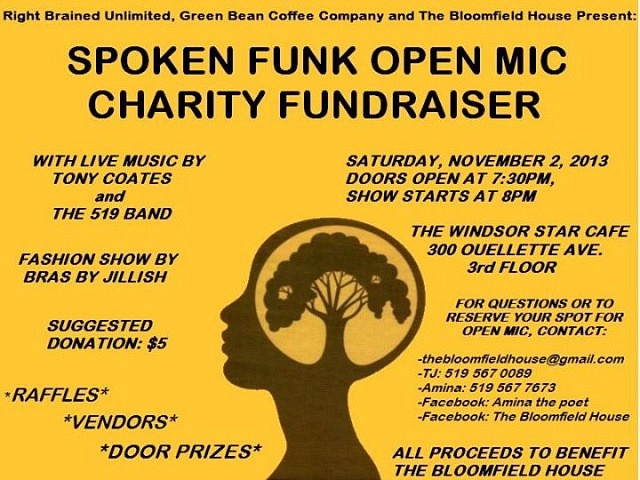 Right Brained Unlimited, The Bloomfield House and Green Bean Coffee Company cordially invite you to Spoken Funk Open Mic Charity Fundraiser. On November 2, the Windsor Star Café at 300 Ouellette will host a fundraiser that will be supporting The Bloomfield House. The Spoken Funk Fundraiser will be an exciting night of music, poetry and vendors selling many wonderful items. The night will feature music by Tony Coates and The 519 Band as well as a fashion show put together by Bras by Jillish.
Spoken Funk will include an open mic portion to the show but there are only 10 spots open so you must contact Amina at [email protected] to secure a spot.
The doors will open at 7:30 and the show will start at 8. There is a suggested donation of $5; tickets can be purchased ahead of time by contacting TJ at 519 567 0089 or Amina at 519 567 7673 or by emailing [email protected] or [email protected]
Spoken Funk Open Mic night is a monthly open mic night that brings artists and lovers of art together to share in each other's works. Poets, singers, musicians and story tellers are all welcome to share their work with an eager and supportive crowd that almost always comes out. Put on the first Saturday of every month, Spoken Funk Open Mic Night is open to all artists and welcomes lovers of creativity.
This fourth open mic is a special one as it is will be a fundraising opportunity to raise funds for the Bloomfield House. All the donations gathered at the door and raised by the raffles and door prizes that will be apart of the open mic night will go directly to supporting this community driven organization. "The Bloomfield House is dedicated to providing a safe space for human growth through community outreach. Our programs include: The Community Pantry (A food share program), The Free School (A safe accessible space for learning), Community Meditation & Drumming Sessions and a Community Flea Market. Bloomfield House takes a people centred approach to holistic community organizing; it is our belief that healthy people create healthy communities and all meaningful work begins from within."
We hope to see all your bright, beautiful faces on November 2nd.
Location
The Windsor Star News Cafe
300 Ouellette Avenue
Windsor, Ontario