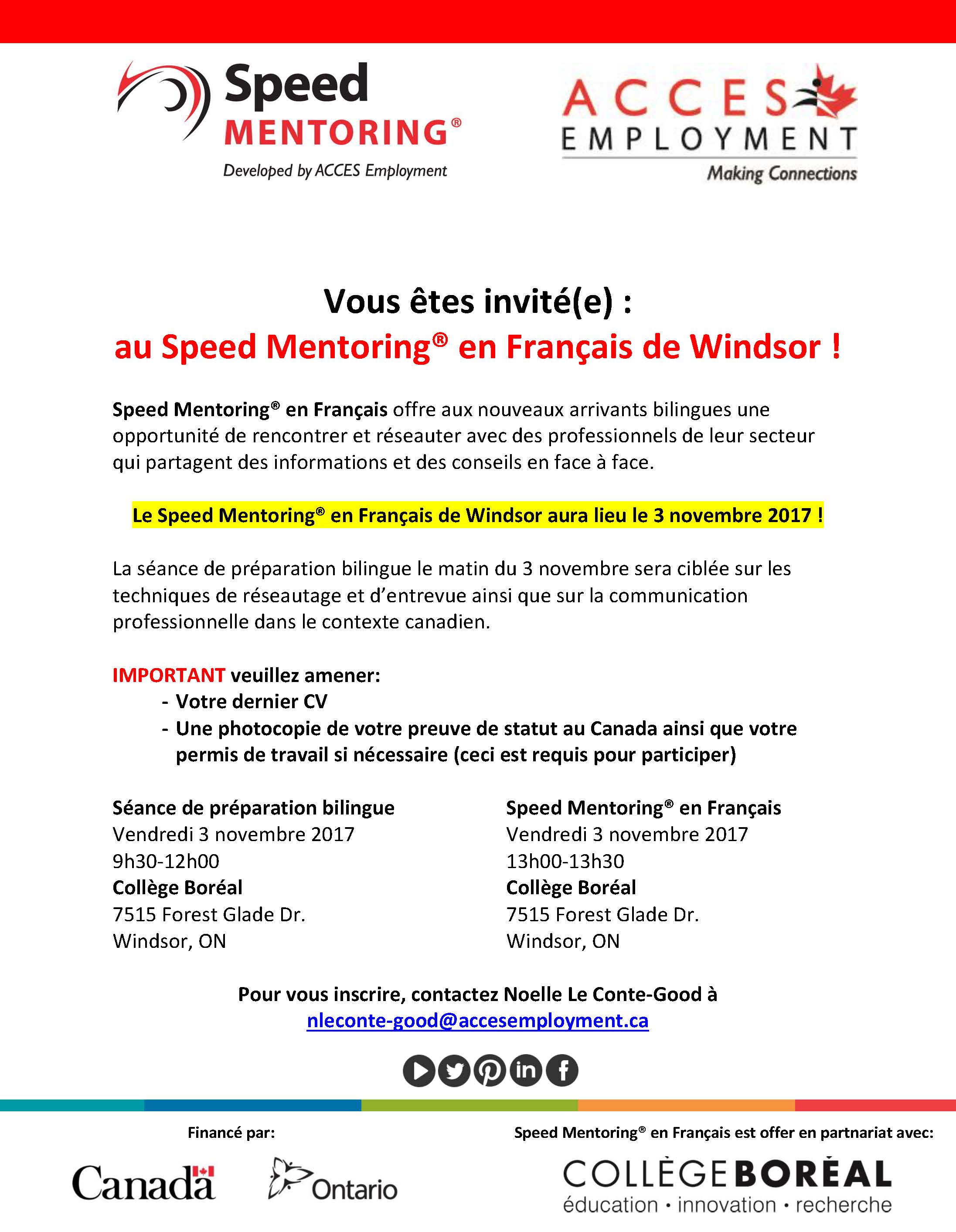 (An English message follows)
Bonjour,
Est-ce que vous êtes francophones et vous cherchez un emploi dans la région de Windsor? ACCES Employment organise un événement de réseautage gratuit Speed Mentoring en Français au campus du Collège Boréal à Windsor le 3 novembre de 13h00 à 15h30. Une session préparatoire touchant sur le réseautage, l'entretien et le résumé aura lieu le matin du 3 novembre de 9h30 à 12h00.
Nous invitons des nouveaux arrivants (mentorés) bilingues en anglais/français à se joindre à notre événement Speed Mentoring en Français. Ceci est une belle opportunité pour les chercheurs d'emploi francophones qui aimeraient élargir leur réseau professionnel et de rencontrer des mentors dans leur secteur.
Veuillez RSVP avant le 30 octobre à 17h00 en envoyant un courriel à Noelle Le Conte-Good à [email protected]
Au plaisir de vous y voir!
————
Hello,
Are you a French-speaking job seeker in the Windsor area? ACCES Employment is hosting a FREE Speed Mentoring en Français networking event at the Collège Boréal campus in Windsor November 3rd from 1:00 p.m. – 3:30 p.m. A preparatory session covering topics such as networking, interviews and résumés, will take place on the morning of November 3rd from 9:30 a.m. to 12:00 p.m.
We are inviting mentees (job seekers) who are bilingual French/English to join us at our Speed Mentoring en Français event. This is a great opportunity for francophone job seekers to expand their professional network and to meet mentors in their sector.
Please RSVP by October 30th at 5 p.m. by sending an e-mail to Noelle Le Conte-Good at [email protected]
We look forward to seeing you there!
Location
College Boreal
7515 Forest Glade Dr
Windsor, Ontario