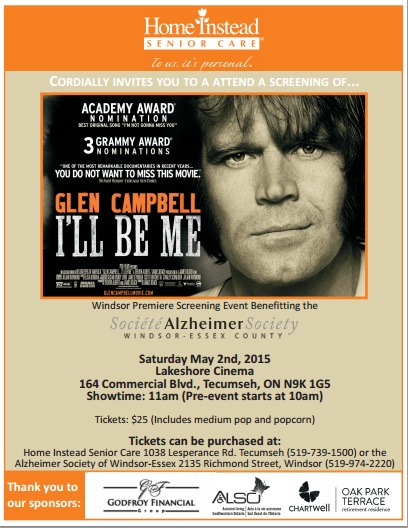 Home Instead Senior Care is proud to present a special fundraiser screening of the award-winning documentary "Glen Campbell…I'll Be Me" benefiting the Alzheimer's Society of Windsor-Essex County. We invite you to join us on Saturday, May 2nd at Lakeshore Cinemas in Tecumseh. Pre-show events begin at 10:00 a.m. with the film premiering at 11:00 a.m. Tickets are $25, including a medium pop and popcorn. Call 519-739-1500 or 519-974-2220 ext. 225 to reserve tickets.
In 2011, American country music legend Glen Campbell was diagnosed with Alzheimer's disease. He and his wife, Kim, made history by going public with the diagnosis – the first time a major American celebrity would share this experience with the world. The Campbell family then embarked an emotional 151-show "Goodbye Tour." Nominated for 3 Grammys and an Academy Award for Best Original Song, the film features appearances by Bruce Springsteen, Paul McCartney, Sheryl Crow, Taylor Swift, Steve Martin, Brad Paisley, and many more. We hope this incredibly moving film highlighting the Campbell's dedication and perseverance sheds light on Alzheimer's in our community and serves as inspiration to those affected by this prominent disease.
A special thank you to our sponsors Godfroy Financial Group, Assisted Living Southwestern Ontario, and Chartwell Oak Park Terrace.
Location
Lakeshore Cinemas
164 Commercial Blvd.
Tecumseh, Ontario