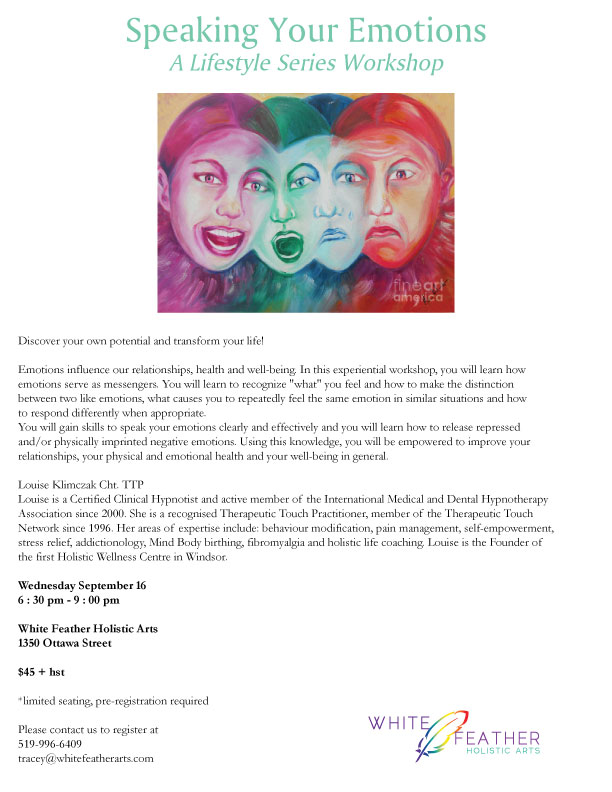 A Lifestyle Series Workshop
Discover your own potential and transform your life!
Emotions influence our relationships, health and well-being. In this experiential workshop, you will learn how emotions serve as messengers. You will learn to recognize "what" you feel and how to make the distinction between two like emotions, what causes you to repeatedly feel the same emotion in similar situations and how to respond differently when appropriate.
You will gain skills to speak your emotions clearly and effectively and you will learn how to release repressed and/or physically imprinted negative emotions. Using this knowledge, you will be empowered to improve your relationships, your physical and emotional health and your well-being in general.
Louise Klimczak Cht. TTP
Louise is a Certified Clinical Hypnotist and active member of the International Medical and Dental Hypnotherapy Association since 2000. She is a recognised Therapeutic Touch Practitioner, member of the Therapeutic Touch Network since 1996. Her areas of expertise include: behaviour modification, pain management, self-empowerment, stress relief, addictionology, Mind Body birthing, fibromyalgia and holistic life coaching. Louise is the Founder of the first Holistic Wellness Centre in Windsor.
Wednesday September 16
6 : 30 pm – 9 : 00 pm
White Feather, 1350 Ottawa Street
$45 +hst
*limited seating, pre-registration required
Please contact us to register at
519-996-6409
[email protected]
Location
White Feather Holistic Arts
1350 Ottawa Street
Windsor, Ontario