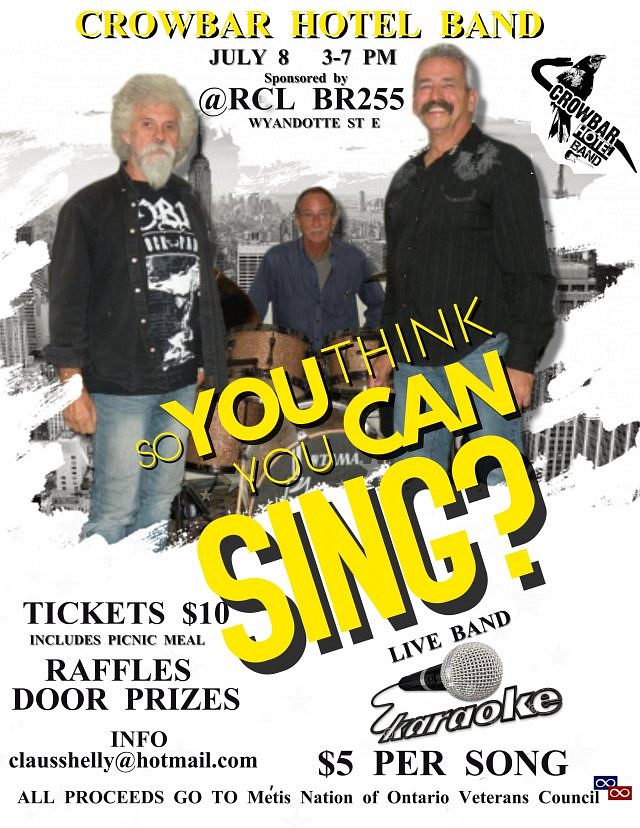 ATTENTION KARAOKE SINGERS !!!!
The Metis Nation of Ontario Veteran's Council is hosting a SO YOU THINK YOU CAN SING? live band KARAOKE event on SUNDAY July 8 at the RIVERSIDE ROYAL CANADIAN LEGION BRANCH 255 WINDSOR ONT CANADA (5645 Wyandotte Street East) from 3-7 pm.
There will be No Karaoke machine at this event, Live band Crowbar Hotel Will be your live Karaoke band. For a $5 donation to the Metis Nation of Ontario VETERANS Council , you can Get up on stage and Rock it out like a Rock Star as a single singer or with a group of friends.. Choose your favourite tune from a large list of songs "Classic Rock – Country – Oldies – Blues etc….." There will be a list provided at each table and Lyrics for your song choice will be provided on stage. If your song is not on the list, there is a good chance Crowbar Hotel will know it (as long as you can sing/fake it).
There will be a picnic meal ( included in the price of your ticket) , raffles and door prizes. Tickets are only $10. Enjoy a fun afternoon with some great food , music , laughs and friends.
All Proceeds will go to the Metis Nation of Ontario Veterans Council.
For more info or tickets email [email protected]
#karaoke #windsor #yqg #livemusic #soyouthinkyoucansing #metis #veterans
Location
Riverside Royal Canadian Legion Br 255
5645 Wyandotte Street East
Windsor, Ontario