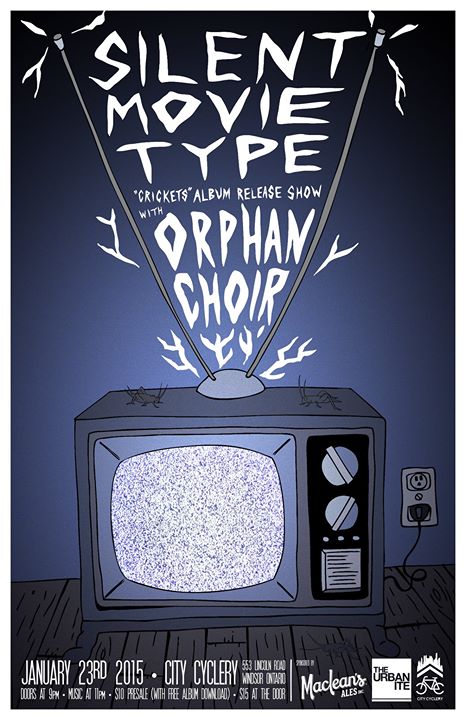 Follow the ticket link for $10 pre sale tickets with a digital download of Silent movie Type's new album "CRICKETS"
(Available 1-20-15)
LIMITED TICKETS AVAILABLE!
$15 at The Door Music @ 10pm 19+
https://orphanchoir.bandcamp.com/
https://silentmovietype.bandcamp.com/
FOR IMMEDIATE RELEASE
Silent Movie Type Announces New Album, Crickets
WINDSOR, ONT./JAN. 23 2015/ Silent Movie Type will release their much-anticipated fifth album, Crickets.
Crickets is a seven-track album that maintains Silent Movie Type's signature intensity,
while being the band's most refined, mature album to date.
The album masterfully blends chaos, melody, feedback and harmony, with hints of each of the four albums that precede it.
With twists and turns throughout, Crickets provides listeners with the anxiousness needed to get them out of their seats
and the calming quietness to sit them back down.
Crickets was engineered and recorded by Brett Humber at Sound Foundry Studios in Kingsville, Ont.
The album was mixed and mastered by Jon Drew at Taurus Recording in Toronto.
Artwork, layout and design was handcrafted by Windsor's Greg Maxwell.
The recording of this album consisted of the band's original members: Justyn Brando (vocals, bass),
Brit Matschulat (guitars, vocals), and Jason Jarrold (drums).
"Crickets is our fifth album in the last six years," says founding member Brit Matschulat.
"We went full circle for this album. We recorded the album entirely as a three piece with the
intention of every song sounding as so. It was back to the basics. Having professionals like
Brett Humber and Jon Drew work with us definitely helped us spend all our time focusing on the music."
Location
City Cyclery
553 Lincoln Road
Windsor, Ontario