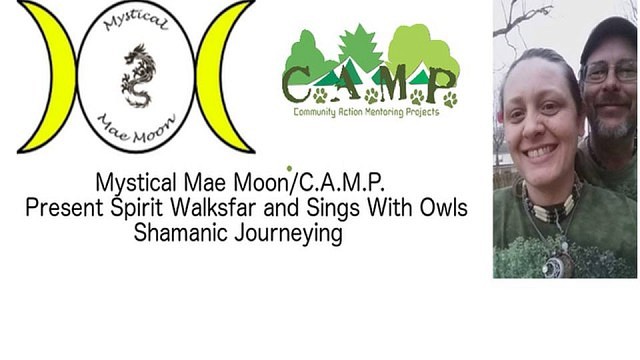 Shamanic Journeying Workshop at Mystical Mae Moon in partnership with C.A.M.P. with Spirit Walksfar (Greg Burris) and Sings With Owls (Donna Austin)
We had such a great time April 2nd, we've decided to hold a repeat. We want to make sure we can reach all those who are interested in learning more about this topic. The intro will be done a little bit differently to ensure there is time for the Animal Spirit Meditation.
This workshop is an introduction to Shamanic Journeying. While we won't be journeying during this workshop, participants may be invited to full courses as well as in person gatherings. There's lots to learn before we journey. We'll have a great time learning about something new and interesting and exploring the idea of further workshops.
Maximum of 16 spaces available. Register to make sure you get your spot! You can register by calling Mystical Mae Moon @ 519-915-4026, or by stopping in at our shop at 1666 Tecumseh Road East.
Workshop Itinerary:
1. BRIEF INTRODUCTION – WITH HANDOUT
2. WHAT IS A JOURNEY
3. JOURNEYING WITH AND WITHOUT TEA
4. WHY WOULD WE WANT TO TALK TO DEAD PEOPLE?
5. WHO ARE SOME OF THE SPIRITS WE SHOULD EXPECT TO SEE?
6. GUIDED MEDITATION TO HELP YOU FIND YOUR SPIRIT ANIMAL OR GUIDE — APPROX 15 MINUTE
Cost: Donation for speaker
Location
Mystical Mae Moon
1666 Tecumseh Road East
Windsor, Ontario