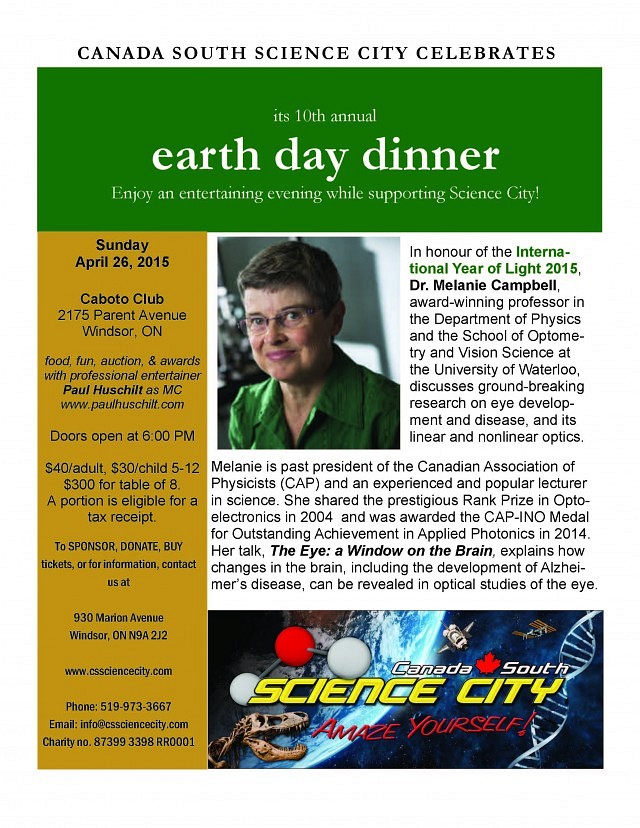 Dr. Melanie Campbell, award-winning professor of physics and optometry at the University of Waterloo, comes to Windsor as guest speaker for the 10th annual Earth Day Dinner, a fund-raising event for Canada South Science City.
This year's dinner celebrates the International Year of Light 2015 as well as Earth Day with a popular talk on optics and the eye. In her talk, "The Eye: a Window on the Brain," Dr. Campbell will describe ground-breaking work by her research group that shows how changes in the brain, including the development of Alzheimer's disease, can be revealed noninvasively through optical studies of the eye.
Dr. Campbell is past president of the Canadian Association of Physicists (CAP), a fellow of the Optical Society of America, of the American Physical Society, and of the Institute of Physics (UK), and an experienced popular lecturer in science. She shared the prestigious Rank Prize in Optoelectronics in 2004 and was awarded the Medal for Outstanding Achievement in Applied Photonics from the CAP and l'Institut National d'Optique (INO) in 2014 for her unique application of polarization methods and adaptive optics to understanding the eye and eye diseases.
The Master of Ceremonies for the dinner is professional entertainer Paul Huschilt (www.paulhuschilt.com), and the event also features poetry/poster awards, a silent auction and a cash bar. To purchase tickets and for further information, visit www.csscience city.com or call 519-973-3667. Science City is the region's science centre where "children of all ages" can amaze themselves with hands-on discovery of the principles and applications of science. Its mission is to advance the understanding and appreciation of science and to encourage youth to consider careers in the STEM areas of Science, Technology, Engineering, and Math. Located at 930 Marion Avenue, it is registered as a charity under the name The Interactive Science and Technology Centre of Windsor, Inc
Location
Caboto Club
2175 Parent Avenue
Windsor, Ontario