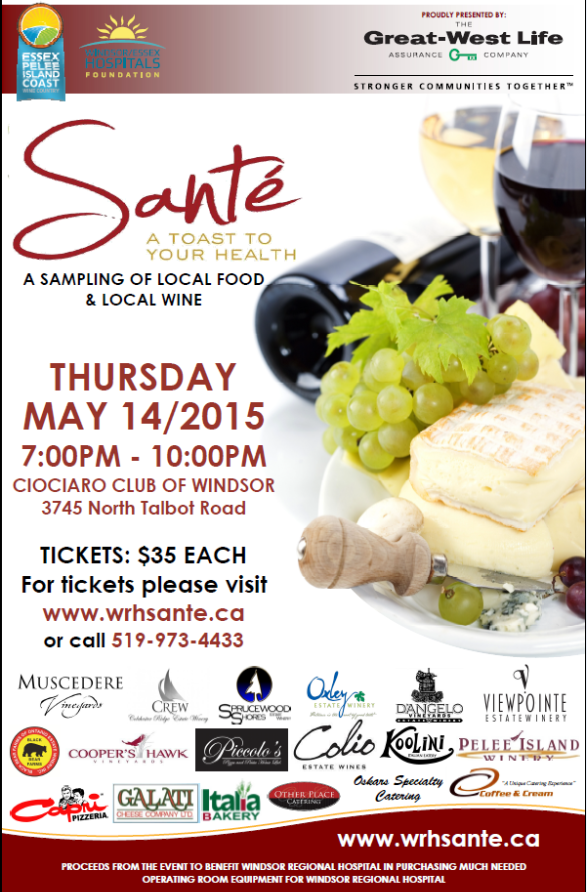 Join Pelee Island Winery at the Sante (Toast to your health )
A sampling of local food and local wine
Tickets: $35 per person – Call 519- 973-4433
Time: 7:00 pm – 10:00 pm
Each year, the Windsor/Essex Hospitals Foundation holds its annual event; Santé: A Toast To Your Health which features walk around tasting of outstanding local wine and food, live and silent auctions to over 500 attendees. The event has grown significantly since its inception, becoming a highly promoted and recognized social/charitable event "not to be missed" by those working in or associated with the wine industry, as well as wine lovers from the Windsor-Essex community and beyond.
We are excited to announce that the 2015 Santé will be held Thursday, May 14 at the Ciociaro Club of Windsor. You will not want to miss this spectacular evening of local wine and food from an array from the Windsor-Essex wineries and local dining establishments.
Participating in the 2015 Santé: A Toast To Your Health as an event sponsor or by purchasing tickets is a great way to support the important services that the Windsor Regional Hospital offers individuals in Windsor-Essex community, while also receiving recognition for your investment in our community.
Location
Ciociaro Club
3745 North Talbot Road
Windsor, Ontario