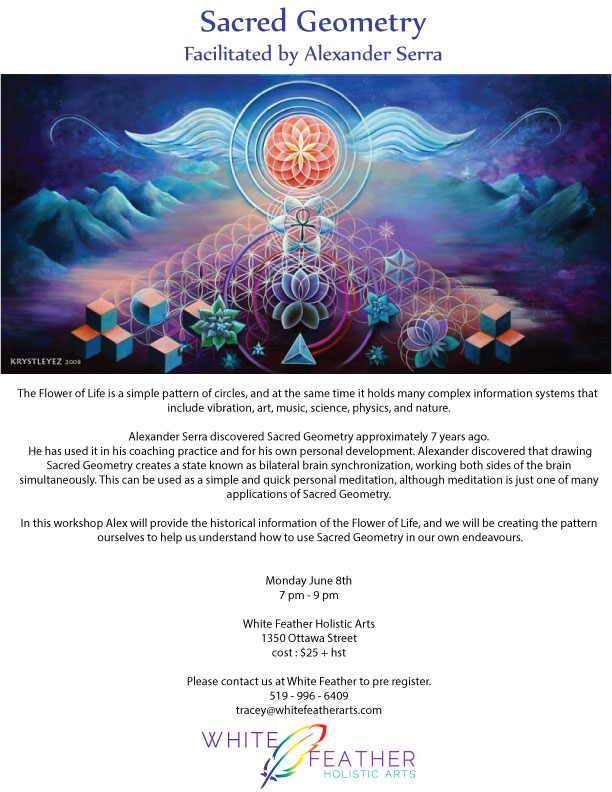 Everything in nature is made up of geometric patterns, from the smallest particle to entire galaxies. Sacred Geometry describes these geometrical laws of nature with a simple diagram. The 'Flower of Life' diagram holds the mathematics and geometry of everything in our known existence. Our ancestors knew this, as this symbol was revered in ancient times. The pattern of the flower of life can be found everywhere in the known world, from China to South America.
The Flower of Life is a simple pattern of circles, and at the same time it holds many complex information systems that include vibration, art, music, science, physics, and nature.
Alexander Serra discovered Sacred Geometry approximately 7 years ago. He has used it in his coaching practice and for his own personal development. Alexander discovered that drawing Sacred Geometry creates a state known as bilateral brain synchronization, working both sides of the brain simultaneously. This can be used as a simple and quick personal meditation, although meditation is just one of many applications of Sacred Geometry.
In this workshop Alex will provide the historical information of the Flower of Life, and we will be creating the pattern ourselves to help us understand how to use Sacred Geometry in our own endeavours.
Monday June 8th
7 pm – 9 pm
White Feather Holistic Arts
1350 Ottawa Street
cost : $25 + hst
Please contact us at White Feather to pre register.
519 – 996 – 6409
[email protected]
Location
White Feather Holistic Arts
1350 Ottawa Street
Windsor, Ontario