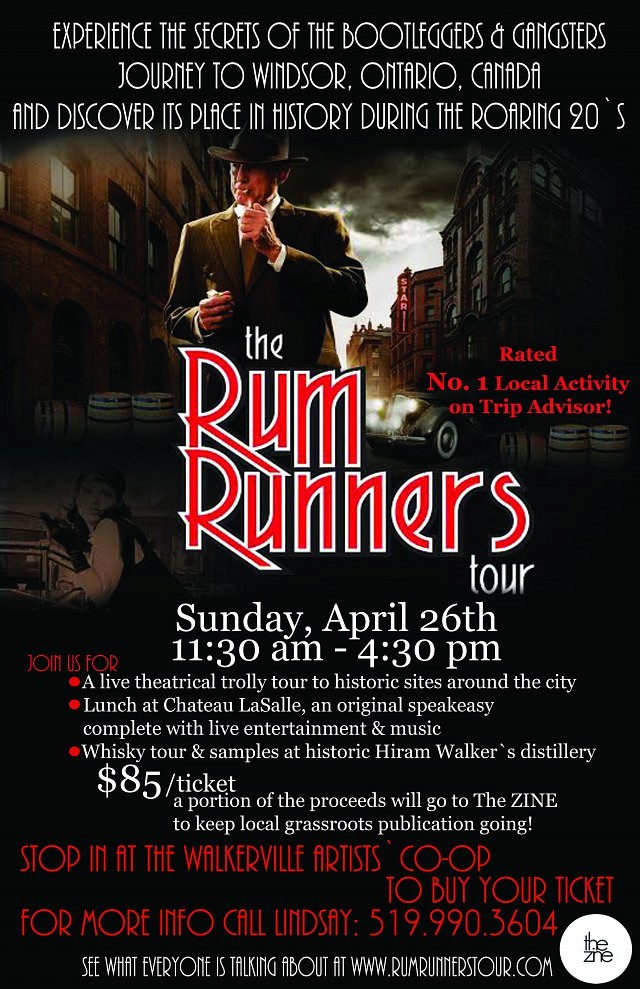 Experience the secrets of gangsters and bootleggers throughout Windsor, ON. and discover it`s history from prohibition in the roaring 20`s!
Join us for a theatrical/historic trolly tour guided by characters Benny and Yorkie as they share with us bootleggers hideouts, Speakeasies and Blind Pigs where the Purple Gang and Al Capone made their deals.
This is a fun opportunity for all ages where you will enjoy the NO. 1 LOCAL ACTIVITY ON TRIP ADVISER! Live entertainment for the whole family, lunch at Chateau LaSalle, and a Whisky tour and samples at the Canadian Club Brand Heritage Centre are all a part of the experience.
Buy your tickets at the Walkerville Artists' Co-Op!
$85.00 a portion of the proceeds will support local arts through The ZINE arts + culture publication!
The trolly departs from the Walkerville Artists' Co-op April 26th at 11:00 a.m and returns at 4:30 p.m
Business Hours: Tuesday-Saturday 10-6, Sunday 12-4
http://www.walkervilleartistsco-op.com/
Rum Runner's is an Encore Productions original tour.
Location
The Walkerville Artists' Co-Op
1974 Wyandotte Street East
Windsor, Ontario