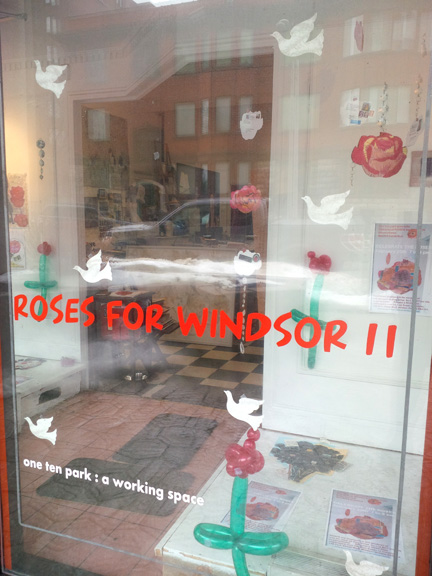 A second year for ROSES for WINDSOR an international mailart exhibition organized by one ten park : a working space and displayed in their storefront windows at 110 Park Street West in the heart of Downtown Windsor during the months of February and March.
ROSES have been mailed by local artists and artists from many countries including: Argentina, Japan, Germany, Italy, England, the United States, and of course CANADA. And more ROSES come in every day. They are displayed in the windows as they come in the mail.
one ten park : a working space replaces its holiday windows with ROSES celebrating the creativity and positive energy of our city WINDSOR, the City of Roses!
On February 20th we invite you to join us at one ten park for an evening collage and pizza party to celebrate and create additional ROSES and bouquets to add to the WINDOW display.
All participants will be part of the on line and booklet Documentation for the 2015 project.
For more information contact:
Collette Broeders; [email protected]
Susan Gold; [email protected] 519 252 4887
ROSES FOR WINDSOR Collage/Pizza Party
open to the public
February 20th (7-9pm)
one ten park : a working space
110 Park Street West (Corner of Park & Pelissier)
Windsor, Ontario
Location
one ten park : a working space
110 Park Street West
Windsor, Ontario