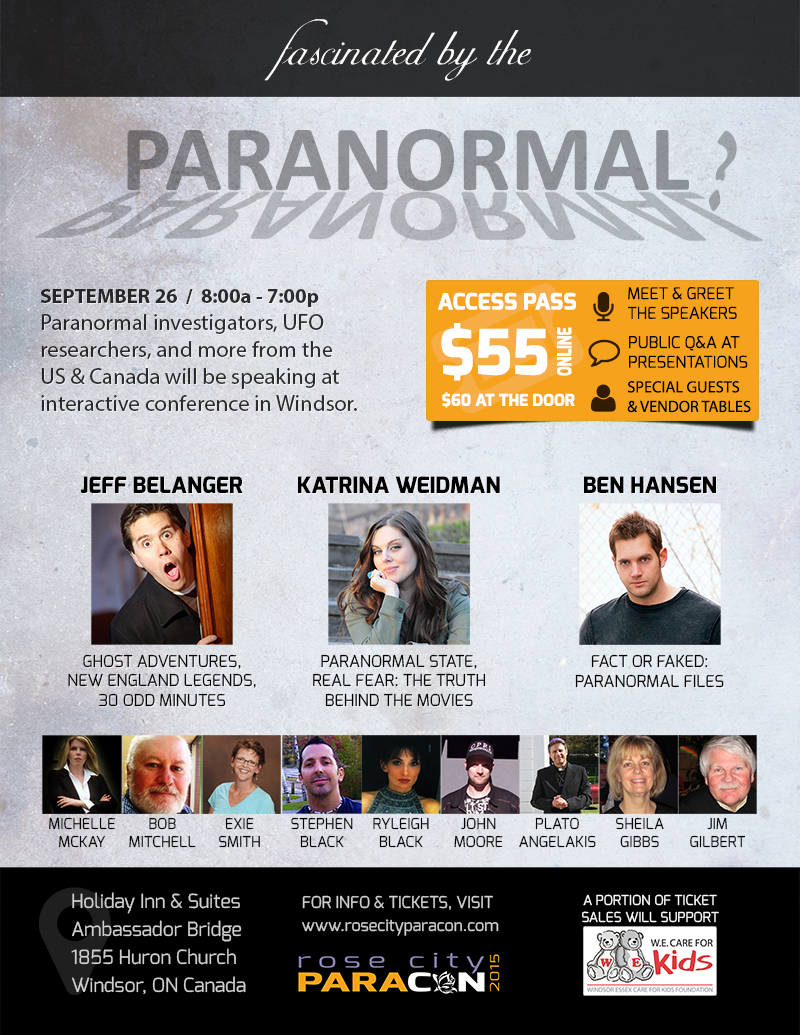 An impressive lineup of speakers from US and Canada will be in Windsor, Ontario this September for the first annual Rose City Paracon. Ideally located just 5 minutes from North America's largest International border crossing, the conference is being held at the Holiday Inn Hotel & Suites (Ambassador Bridge) and is easily accessible from all major highways running into Windsor and Detroit.
Whether you are a paranormal enthusiast, you've experienced strange phenomena, or you are simply curious about the unknown, this conference is an event that you don't want to miss! Speakers will be presenting on topics from several paranormal fields, including; ghosts & hauntings, psychics & mediums, UFO sightings & research, and more. They will be available for a meet and greet throughout the day in addition to a Q & A following their presentations. There will also be a vendors area.
Along with our speakers, event organizers and special guests will be on hand to answer questions that people may have regarding paranormal events or personal experiences. We encourage everyone to come out and share their stories.
Out of town guests can take advantage of Holiday Inn's reduced rates and bonuses for IHG Rewards Club Members. Special offers expire September 1st so don't wait too late.Click here to learn more about these offers and the event venue. Parking in the hotel lot is free.
A portion of all ticket sales will be donated to W.E. Care for Kids, a non-profit organization dedicated to raising funds for local paediatric programs in Windsor and surrounding area.
Seats are limited and admission at the door cannot be guaranteed. Don't wait until it's too late! Purchase your tickets online today and save money.
Location
Holiday Inn Hotel & Suites
1855 Huron Church Road
Windsor, Ontario