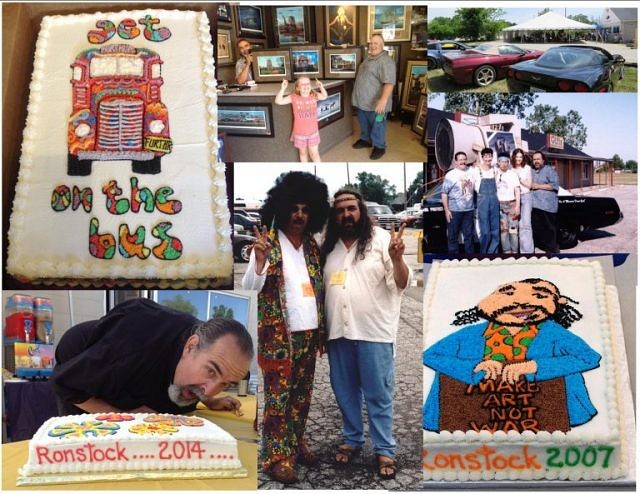 Mark these dates on your calendar so you do not miss out on FREE ART at this year's RONSTOCK. And, this year Ron has the biggest announcement of his career to tell you!
For those of you who have never been fortunate enough to attend RONSTOCK, this is what to expect … Free Food, Free Art, Free Entertainment and loads of FUN! We have been inviting our customers and anyone else that they want to bring to our yearly customer appreciation weekend for over 25 years. We barbecue up the best hot-dogs, offer cold refreshments including slushies (mmmm- brain freeze!) along with relaxing live entertainment. And best of all, Ron produces new art and gives you a limited edition print absolutely FREE!
You can meet other art collectors and see new paintings and chat with Ron…ask him anything! We will have lots of framing specials so bring in any art, photos, hockey jerseys or whatever you have been meaning to get framed. What one place can you have lunch for free, listen to live music, view great art, receive free art gifts, have a few laughs and frame your treasures—whew—? Ask around, everyone will tell you, it's SUCHIU ART's RONSTOCK! It has become one of our counties premier annual social events!
We pride ourselves on not being a stuffy art gallery. We are down to earth, like to get to know our customers (Ron calls them his extended Suchiu family) and we love to share stimulating conversation and laughter. We encourage you to bring your family and friends to share in the fun and receive a Free art gift.
This year's FREE print is the Boblo Amusement Park ($125.00 value). Join the Ronald Suchiu Facebook and watch him paint it!
View 3 New Paintings: Canada 150th complete with artifact, The Magic Bus – with psychedelic bus in frame and Boblo Amusement Park
The Corvette Club will be here Saturday with some fabulous vehicles.
Missing any past free prints? If there are any left from previous years, we will give you the print for free ($75 to $125 value) when you frame it with us.
Location
Suchiu Galleries
143 Keown Street
Essex, Ontario