Date
Friday October 25th, 2013
Time
12:00am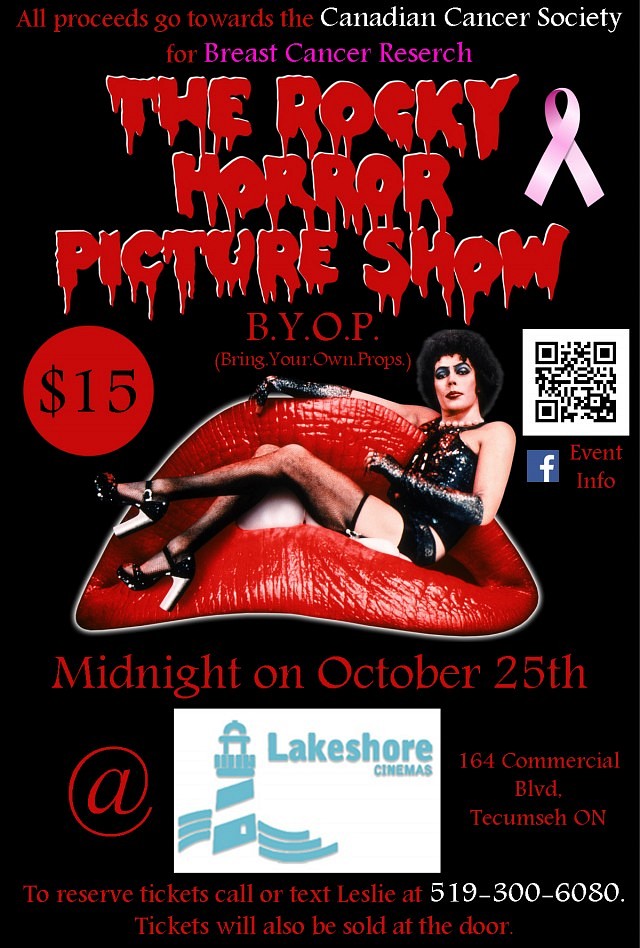 Just in time for Halloween! Come out to see The Rocky Horror Picture Show at Lakeshore Cinemas on Friday October 25th at Midnight. Show up early to ensure that you and your friends get a good seat. All Proceeds from ticket sales and ribbon sales will go towards the Canadian Cancer Society for Breast Cancer Research. This show is rated 14A which means if your are 14 or under you must have an adult with you.
Actors, costumes (no nudity please), props, and callbacks are encouraged! There will be a costume contest for the best Rocky Horror costume! The winner will win a very special prize.
Tickets are $15 each! To reserve tickets call or text Leslie at 519-300-6080 or risk buying them at the door. This event is expected to fill up so please plan accordingly! Reserved tickets will be picked up at the theater lobby. Tickets will be paid for in CASH ONLY. The doors will open at 10pm. Come early to get tickets and good seats! There will be tons of games to play before the movie starts.
Location
Lakeshore Cinemas
164 Commercial Blvd
Tecumseh, Ontario