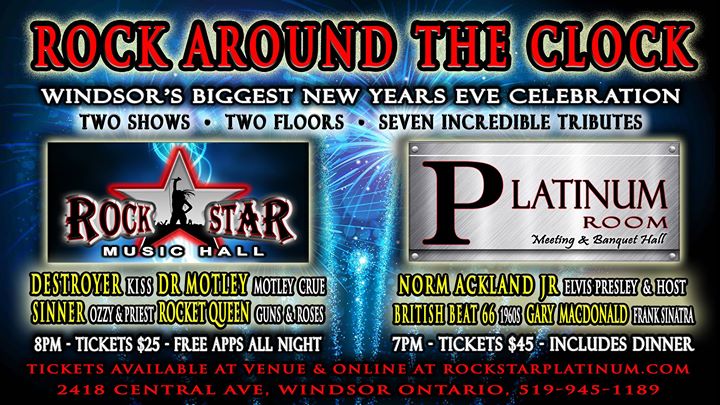 ROCK AROUND THE CLOCK NEW YEARS CELEBRATION
Hosted by RockStar and Platinum Room
Choose one of two separate shows on two different floors of our massive and newly renovated entertainment complex. You will experience concert level performances and delicious food during both events. Tickets for each event sold separately. Show information below.
PLATINUM ROOM – Showtime 7pm
Featuring tributes to Frank Sinatra, Elvis Presley, and the 1960's.
Join us for a magical evening filled with style and elegance in our grand ballroom. Enjoy a gourmet dinner to the serenade of Frank Sinatra performed by Gary Macdonald. Then hit the dance floor to a tribute to the 1960s by British Beat 66. This event is hosted by Norm Ackland Jr who also performs a tribute to Elvis Presley. Relive the past while ringing in the new year.
Tickets – $45 – includes dinner – lemon chicken, pork cutlets, pasta, potatoes, vegetable, salad, and dessert.
Tickets for this show includes access to RockStar after midnight.
ROCKSTAR – Showtime 8pm
Featuring tributes to Kiss, Motley Crue, Guns & Roses, Judas Priest, & Ozzy Osbourne. Party to a incredible rock show starring Destroyer, Dr Motley, Rocket Queen, and Sinner live in concert. Enjoy our complimentary appetizer bar all night long. Party goes til 3am!
Tickets – $25 – includes complimentary appetizers all night
Tickets may be purchased at the venue or online at
www.rockstarplatinum.com
Location
RockStar
2418 Central Avenue
Windsor, Ontario