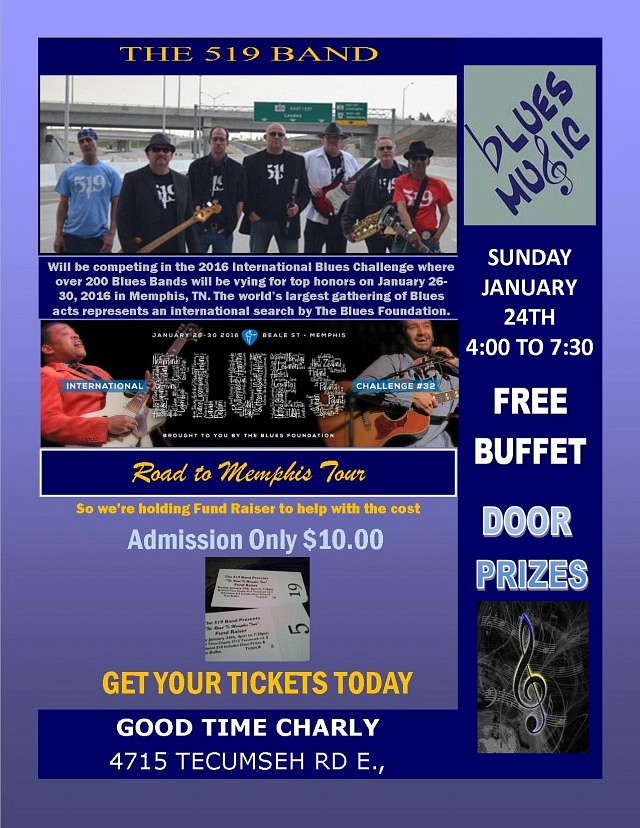 We're The 519 Band and we've recently won the Canada South Blues Society Annual Blues Contest. This is an honoured achievement for which we are very proud. The winning prize is an opportunity to compete in the International Blues Challenge at Memphis, Tennessee in January 2016, where we'll be representing Southern Ontario and competing against more than a hundred Blues bands from around the world.
Although there was some (much appreciated) prize money also included to help with the travel costs, it's just not enough to get the seven musicians of the band to Memphis for a 5 night stay….. motel rooms, gas, food. So we're holding Fund Raiser to help us offset the cost on January 24th at Good Time Charly at 4715 Tecumseh Rd. E. The admission is only $10.00 and that includes a Free Buffet and your chance to win Door Prizes.
Please come out to support our "Road to Memphis Tour"
The members of this band, seven mature men from your community, appreciate your kind support and helping us accomplish a lifelong dream and bringing Canadian music to the world stage.
Location
Good Time Charly
4715 Tecumseh Road East
Windsor, Ontario