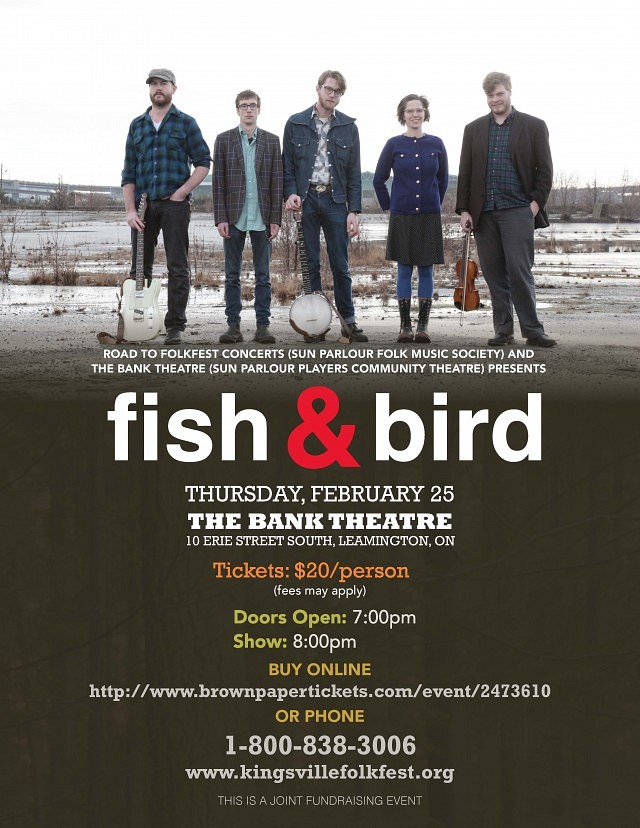 Road to Kingsville Folk Fest Concert Series presents FISH & BIRD – main stage favourites of the 2014 Kingsville Folk Music Festival – on Thursday, February 25 at The Bank Theatre and Meeting Place, 10 Erie Street South, Leamington.
Doors open at 7:00 pm, show begins at 8:00 pm. Seating is limited and tickets must be purchased in advance. Tickets are just $20 per person, and available by phone 1-800-838-3006 or online at http://www.brownpapertickets.com/event/2473610
Raised on equal parts roots music and Radiohead, Fish & Bird have received praise on both sides of the Atlantic for their refreshingly unclichéd writing. With their fourth album, "Something in the Ether" (released on Fiddle Head Records in September 2014), the young Canadian band continue to reimagine folk music for a new generation.
The group members have been friends more or less since childhood, growing up in the small community of idyllic Mayne Island, a remote 900-person island off the west coast of British Columbia. Songwriter Taylor Ashton and fiddler Adam Iredale-Gray formed Fish & Bird in 2007, based on a shared interest in traditional old-time music. Their musical interests span many genres and styles of music, including jazz and indie rock. The duo grew into a five-piece and now, 7 years later are joined by drummer Ben Kelly, electric guitarist Ryan Boeur, and upright bassist Zoe Guigueno, presenting a collection of songs that effortlessly fuse their traditional folk influences and experimental leanings into a coherent, modern-day roots opus.
From innovative arrangements to mature, restrained playing, it's hard to believe that you're listening to a group of musicians only in their mid-twenties. The future looks brighter than ever for Fish & Bird, who are currently on tour in Europe.
The concert is a fund raising project of both the Sun Parlour Folk Music Society (Kingsville Folk Music Festival) and the Sun Parlour Players Community Theatre (The Bank Theatre).
The Sun Parlour Folk Music Society exists to provide diverse high quality folk music through concerts and the annual Kingsville Folk Music Festival and allocates funds to the MAY FUNd (Music and Arts for Youth) which provides financial assistance, an annual scholarship and more to regional youth to access the arts.
For more information visit www.kingsvillefolkfest.org
Location
The Bank Theatre and Meeting Place
10 Erie Street South
Leamington, Ontario