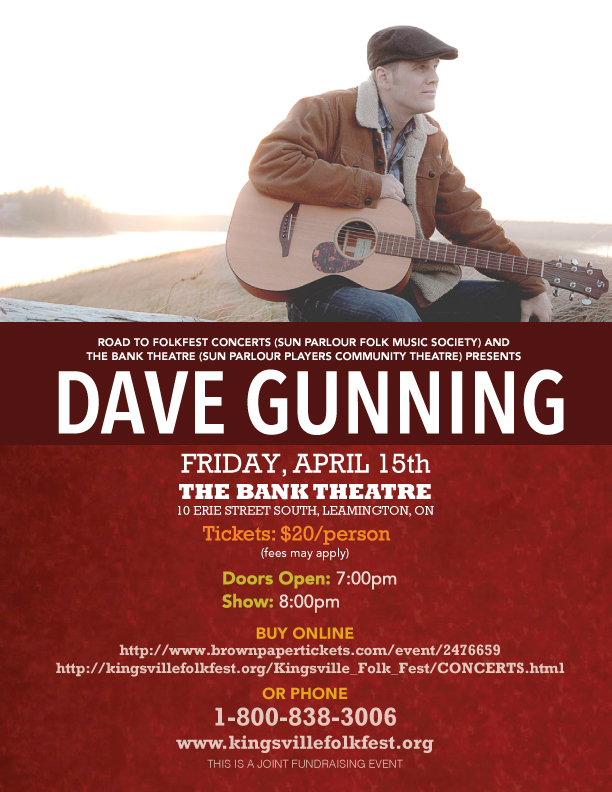 WHAT: Road to Kingsville Folk Fest Concert Series Presents Dave Gunning
WHEN: Friday, April 15, 2016
Doors: 7pm Show: 8:00pm
WHERE: The Bank Theatre and Meeting Place, 10 Erie Street South, Leamington, Ontario
TICKETS/INFO: $20 – must be purchased in advance
Online http://www.brownpapertickets.com/event/2476659
Phone: 1-800-838-3006
PRESENTED BY: Sun Parlour Folk Music Society (Kingsville Folk Music Festival) & Sun Parlour Players Community Theatre (The Bank Theatre)
Websites:
www.davegunning.ca
www.kingsvillefolkfest.org
Road to Kingsville Folk Fest Concert Series is proud to present East Coast Music Award Winner, DAVE GUNNING on Thursday, April 15 at The Bank Theatre and Meeting Place, 10 Erie Street South, Leamington.
Doors open at 7:00 pm, show begins at 8:00 pm. Seating is limited, the popular series is often sold out and tickets must be purchased in advance. Tickets are just $20 per person, and available by phone 1-800-838-3006 or online at http://www.brownpapertickets.com/event/2476659
Eleven albums in, Dave Gunning has become a truly masterful songwriter, one who has earned real peer respect from such Canadian folk song writing legends as Ron Hynes, David Francey, and James Keelaghan. Gunning credits the first live concert he ever observed, a 1981 double bill of John Allan Cameron and Stan Rogers, to be a major driving force in shaping the direction his life would take as a musician.
Over the span of his career, Gunning has received a Juno Award nomination, been awarded two Canadian Folk Music Awards, and recognized with eight East Coast Music Awards and multiple Nova Scotia Music Awards. He is known for the incorporation of story telling into his live show. In particular, Gunning relates anecdotes of notable characters from Pictou County and performs impressions of musicians that he has worked with over the years.
His song writing skill has also been internationally recognized, with earlier tunes scoring victories and high placing in some major international song writing competitions. As a fervent hockey fan, Gunning was also thrilled to win the CBC's hotly-contested Hockey Night In Canada Song Quest in 2014 with "A Game Goin' On," a co-write with David Francey.
Dave Gunning, a crowd favourite at the 2015 Kingsville Folk Fest, sold more albums than any other performer. A genuinely engaging performer and storyteller, he is now a fixture on the folk festival and club circuit in the rest of Canada and United States. An initial foray into Australia was well received, and he is now planning a return tour in March 2016.
An evening with Dave Gunning is an intimate evening with an authentic artist at his creative peak.
The concert is a fund raising project of both the Sun Parlour Folk Music Society (Kingsville Folk Music Festival) and the Sun Parlour Players Community Theatre (The Bank Theatre).
The Sun Parlour Folk Music Society exists to provide diverse high quality folk music through concerts and the annual Kingsville Folk Music Festival and allocates funds to the MAY FUNd (Music and Arts for Youth) which provides financial assistance, an annual scholarship and more to regional youth to access the arts.
For more information visit www.kingsvillefolkfest.org
Location
The Bank Theatre and Meeting Place
10 Erie Street South
Leamington, Ontario