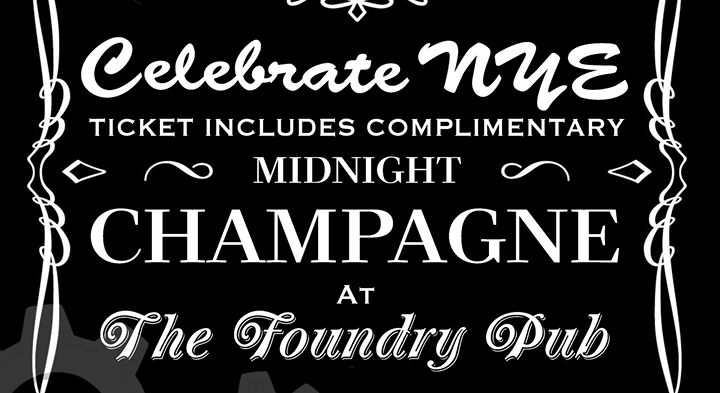 Get your tickets now for New Year's Eve at The Foundry Pub!
Tickets are on sale online: https://windsor.snapd.com/events/view/1111369 or in person at 459 Ouellette Ave. (Open daily: 12pm-3am)
$10 advance tickets! Reserve your spot today (reservations available on a first come first serve basis, open until 11pm)
Get your tickets and/or reservation in advance by:
-Shooting us a Facebook message at https://www.facebook.com/foundrypubwindsor/
-Text or call us at (519) 566-1223
-Send us an email at [email protected]
-Purchasing tickets online here: https://windsor.snapd.com/events/view/1111369
Remember, first come first serve! We're looking forward to ringing in 2018 with you!
Be sure to check out our awesome Punch Bowl Service as well! (You must have a group of 4 or more to order)
1. PALORAMA PUNCH $50 : Tequila, Agave Syrup, Grapefruit Juice, Lime Juice, Soda, Lime Garnish & Salted glasses.
2. SOUTHERN NUTTER PUNCH $53 : Bourbon, Lemon Juice, Iced Tea, Simple Syrup, Amaretto, Soda, Lemon & Cherry Garnish.
3. SANGRIA PUNCH $50 : Bodacious Smooth Red, Raspberry & Watermelon Vodka, Lemon, Orange & Cranberry Juice & Orange Slices.
4. MIMOSA BUCK'T $40 : Spumante Bambino (750ml) & Orange juice on ice.
Cheers!
Location
The Foundry Pub
459 Ouellette Ave
Windsor, Ontario