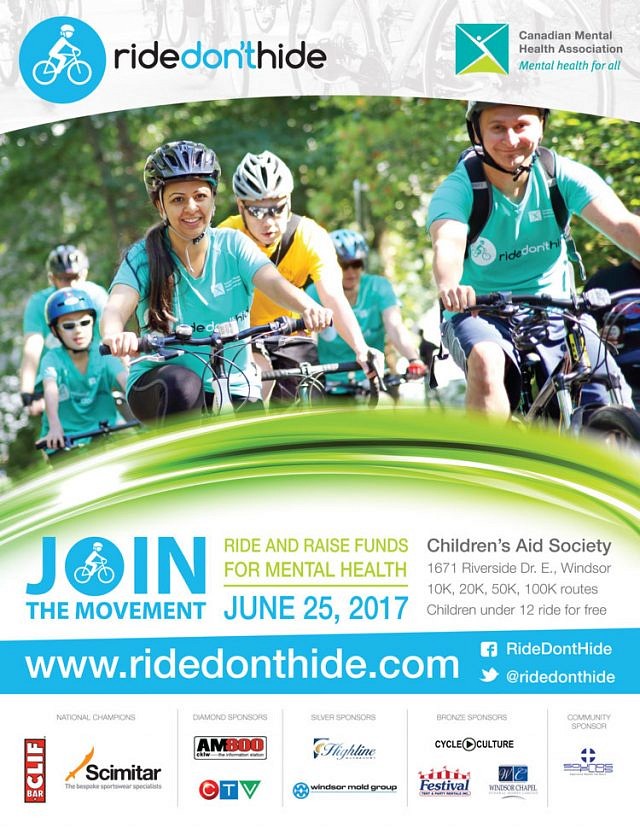 Ride Don't Hide is a national cycling event held in 35 cities from coast-to-coast across Canada.
Ride Don't Hide includes family-friendly 10K and 20K routes, a 50K route for more seasoned riders, and a 100K for the serious rider. The event starts in Walkerville and proceeds along the river toward LaSalle/Amherstburg.
Funds raised in Windsor-Essex will support our Bereavement Program for adults and the Griefworks Program for children, our Client Assistance Fund and Mental Health Education, Awareness and Training.
Your $30 registration includes a light breakfast, warm-up, gift bag, and post-ride lunch, entertainment and prizes!
Early bird registration ends April 30th!
RIDE DAY DETAILS
6:00am Registration opens
7:00am 100K riders depart, light breakfast available
7:15am Rules of the Road, Announcements & Pre-Ride stretches
7:30am 50K riders depart
8:45am Rules of the Road, Announcements & Pre-Ride stretches
9:00am 10K and 20K riders depart
10:30am Post-Ride wrap-up, complimentary massages, entertainment, lunch and prizes
Location
Children's Aid Society
1671 Riverside Dr. E.
Windsor, Ontario