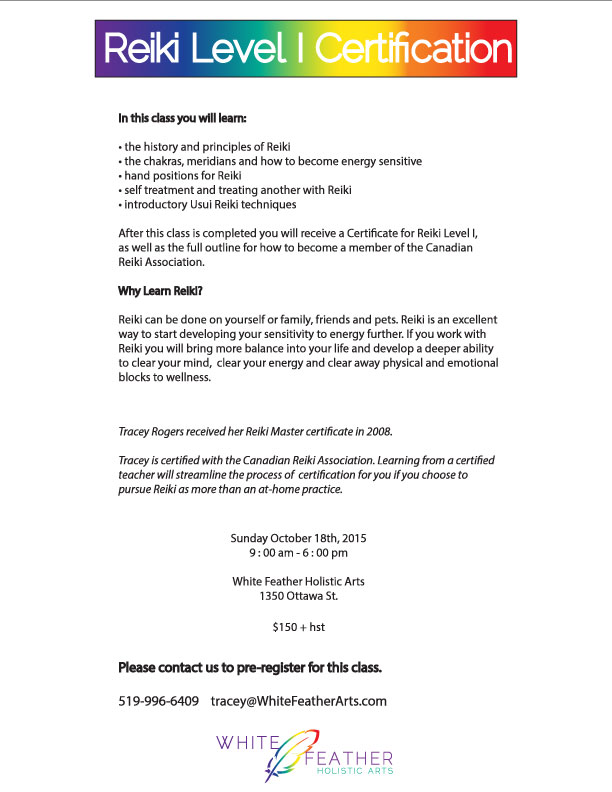 Reiki Level I
with Tracey Rogers
In this class you will learn:
• the history and principles of Reiki
• the chakras, meridians and how to become energy sensitive
• hand positions for Reiki
• self treatment and treating another with Reiki
• introductory Usui Reiki techniques
After this class is completed you will receive a Certificate for Reiki Level I, as well as the full outline for how to become a member of the Canadian Reiki Association.
Why Learn Reiki?
Reiki can be done on yourself or family, friends and pets. Reiki is an excellent way to start developing your sensitivity to energy further. If you work with Reiki you will bring more balance into your life and develop a deeper ability to clear your mind, clear your energy and clear away physical and emotional blocks to wellness.
Tracey Rogers received her Reiki Master certificate in 2008.
Tracey is certified with the Canadian Reiki Association. Learning from a certified teacher will streamline the process of certification for you if you choose to pursue Reiki as more than an at-home practice.
9 : 00 am – 6 : 00 pm
$150 + hst
Please contact us via email, phone or in person to register.
[email protected]
519 – 996 – 6409
Location
White Feather Holistic Arts
1350 Ottawa Street
Windsor, Ontario