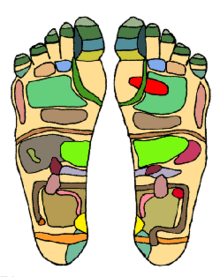 Become a Certified Reflexology Practitioner
Our Reflexology Certification Program is approved by the Reflexology Association of Canada (RAC) for professional membership and the College of Massage Therapists for CEU's.
Our reflexology training program provides an excellent introduction to bodywork and gives students a good grounding on using reflex points located on the feet to help balance various glands, organs and parts of the body.
Research has proven that Reflexology helps reduce tension and anxiety, improves circulation and helps the body return to homeostasis or natural balance. Reflexology is also one of the best therapies for stress relief.
Dates: 2 Weekends, April 4 & 5, and April 11 & 12, 2015
Class Times: 10 am to 5 pm
Deposit: $200.00 (balance of $650.00 due on first day of class)
Web: aliphaticambrosia.com
Location
Aliphatic Ambrosia
1984 Pierre Avenue
Windsor, Ontario