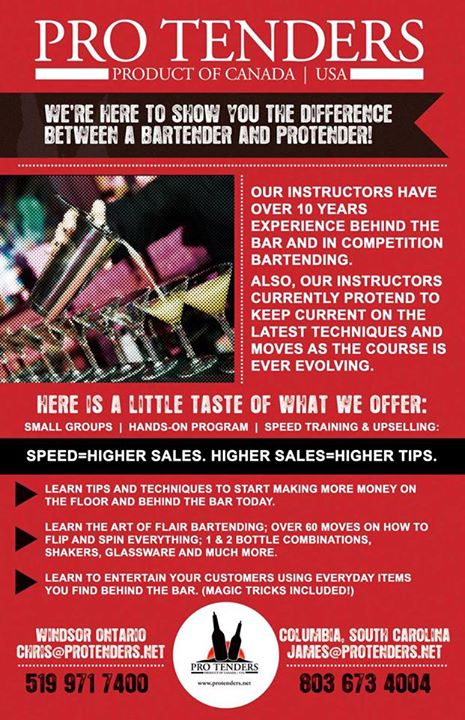 Protenders is one of North America's top Bartending Schools as well as Top Special Events staffing agencies.
Protenders has been in operation since 2001 and has produced some of the top selling and top entertaining Bartenders and Events in Canada and the USA.
Welcome to Protender's Bartending School!
We're here to show you the difference between a bartender and Protender!
Learn Tips and Techniques to start making more money on the floor and behind the Bar Today.
Protender's Graduates see a 25% increase in Tips and 30 % increase in sales immediately after taking the course.
You can learn to be the top seller on your Bar in just 4 weeks! Higher sale= higher tips, Higher sales= Better shifts, Better Shifts = Better Tips.
If you already are a bartender we offer a Money Back Guarantee. If we don't increase your tips by 25% during the course you can have your money back.
Our instructors have a minimum 15 years experience behind the bar and in competition bartending. Also, our instructors currently Protend to keep current on the latest techniques and moves as the course is ever evolving. Here is a little taste of what we offer:
Small Groups:
In order for you to get the training you deserve and for us to achieve the high standards we set for you, we limit our class size to 20-35 students only. With a small group you will benefit from a variety of specially designed practice sessions and receive the personalized attention and practice time you need.
Hands-on Program:
Every student is guaranteed lots of practice in every class. As the course progresses, practice time becomes longer, more exciting, and more challenging. By the end of the course, you will have developed your speed and the ability to handle multiple cocktails, while incorporating fluid motion. We train you to become a complete bartender – an Absolute Protender
Speed Training & Upselling:
This portion of the course is designed to perfect your techniques, increase your bar speed and to eliminate bad bar bad habits. All in the goal to make you a more complete, faster, smoother, and high selling bartender. Whether it's getting a big order out or handling high volume crowds, we'll teach you how to do it.
Remember:
SPEED=HIGHER SALES,
HIGHER SALES=HIGHER TIPS.
Call 519-567-7537 or email [email protected] to sign up!
Location
Dominion House Tavern (The DH)
3140 Sandwich Street
Windsor, Ontario