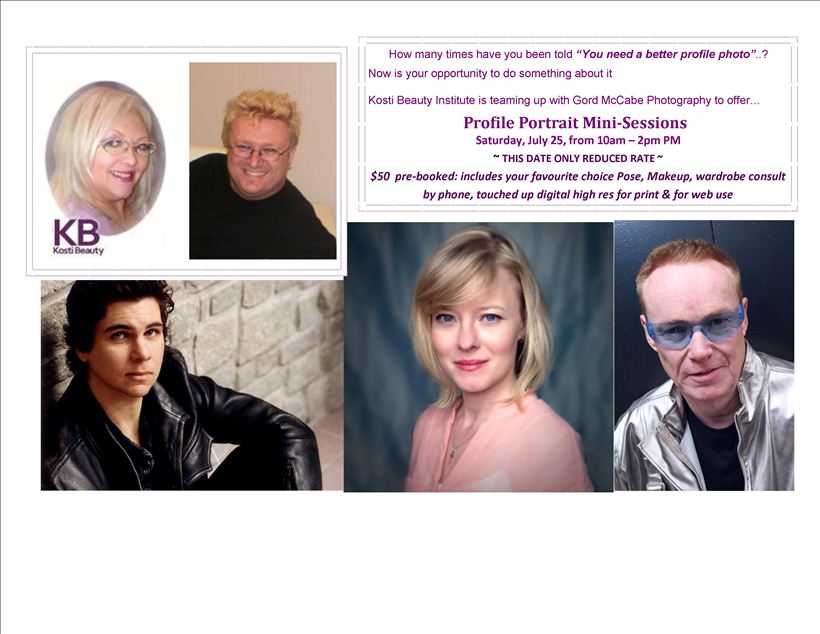 How many times have you been told "You need a better profile photo"..?
Now is your opportunity to do something about it – get updated photo shoot – and all to benefit local charity in support of women and children in need www.Spirit-of-Excellence.com
Kosti Beauty Institute (the women's branch of the charity) is teaming up with Gord McCabe Photography to offer…
Profile Portrait Mini-Sessions
Saturday, July 25, from 10am – 2pm PM
…at our beautiful new location at The Water's Edge – 2879 Riverside Drive East. Kosti Beauty entrance is from the east side street behind the former church on Cadillac – parking lot in rear.
Finally have a professional-looking profile photo!
Gord McCabe is a photographer, makeup artist, and stylist with a studio in Oakville, ON. Gord is originally from Windsor, and has been good friends with the Kostis' for many years. Gord is excellent at making people feel comfortable in front of the camera. He specializes in taking nervous, self-conscious, "it's impossible for me to look good in a photo" people, and easing them into a session that shows them they can look great in a photo, using professional lighting, (and a few posing tips) 
This special offer includes a phone consultation before your session, to help guide your wardrobe choices.
These photo sessions are offered at a special reduced rate of $50 (incl. HST), to give our students real time, hands-on studio makeup experience under the guidance of Kosti Beauty Institute director Award Winning Makeup Artist, Colleen Kosti.
Your session will last about 15 minutes, and you will choose your favourite pose at the end of the session.
We will do some minor retouching, and will email you a digital image (suitable for printing) and a lower res version for the web.
Book your session online at https://spiritofexcellence.acuityscheduling.com/schedule.php?appointmentType=414934
Spaces are limited to the first 16 pre-paid clients. Advise your preferred time slot, and we will do our best to accommodate it. Please allow for wiggle room on this.
We look forward to serving you! Phone for more info 226-787-3328
Location
Kosti Beauty Institute @The Water's Edge Event Centre
2879 Riverside Dr., E., enter from east side street Cadillac - parking lot in rear
Windsor, Ontario