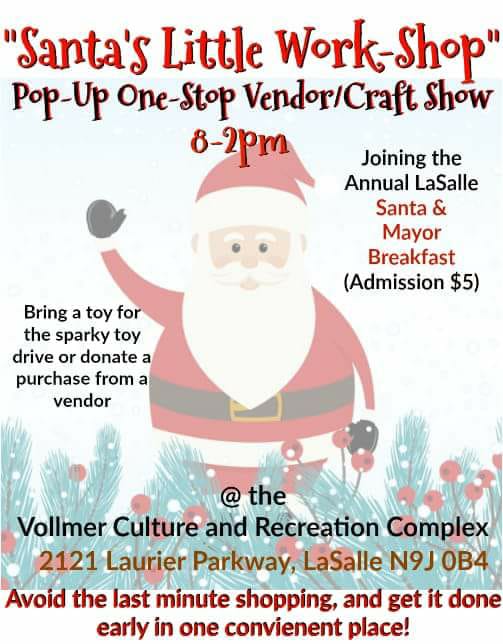 Come visit Pop~Up One~Stop~Shop Vendors in Santa's workshop during the Annual LaSalle Pancake Breakfast with Santa & the Mayor!
A lot of great things are going on this year, if you have not been able to attend in previous years, this is the year to come!!
Shopping, Santa, Mayor, Sparky Toy Drive drop off and more! Feel free to bring a new unwrapped toy or gift card. You could even support our local vendors by purchasing your toy drive item from one of them!
Bring your children with a list of people they would like to gift to this year (teachers, friends, family members) and we will have gifts for anyone on that list. Let your kids help shop for you this year.
So come on out, our vendors will be able to assist you on Saturday, Dec. 2 from 8:00am to 2:00pm.
Location
Vollmer Culture and Recreation Complex
2121 Laurier Parkway
LaSalle, Ontario