Date
Saturday November 16th, 2013
Time
7:30pm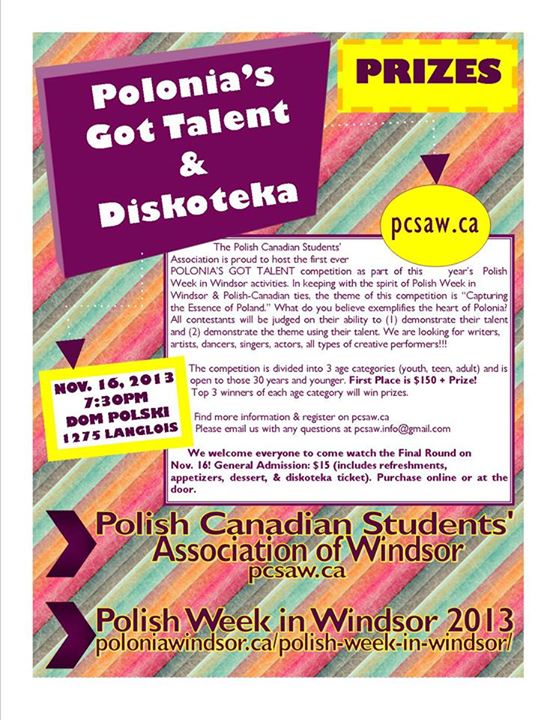 The Polish Canadian Students' Association is proud to host the first ever 'POLONIA'S GOT TALENT: Capturing the Essence of Poland' as part of this year's Polish Week in Windsor activities. This competition is open to EVERYONE from ANYWHERE. You do not have to be Polish or from Windsor to partake! $150+Prize will be awarded to 1st place finishers in each age category!
In keeping with the spirit of Polish Week in Windsor and Polish-Canadian ties, the theme of this competition is "Capturing the Essence of Poland." What do you believe exemplifies the heart of Polonia? All contestants will be judged on their ability to (1) demonstrate their talent and (2) demonstrate the theme using their talent.
Talents may include, but are not limited to:
Performing:
Instrumental
Singing
Reciting literature
Dramatic skit
Dance
Submission:
Art
Writing
September 1-30 – Registration is open on pcsaw.ca
October 27 – Elimination Round + late registration
November 16 – Final Round + diskoteka after the show!
If you are not interested in participating as a contestant, we welcome you to come watch the Final Round on Nov. 16! Tickets can be purchased online at https://polonias-got-talent.eventbrite.ca/ or at the door. Refreshments, appetizers, desserts, & diskoteka ticket included in price.
Visit http://pcsaw.ca for full contest details.
Location
Dom Polski
1275 Langlois
Windsor, Ontario