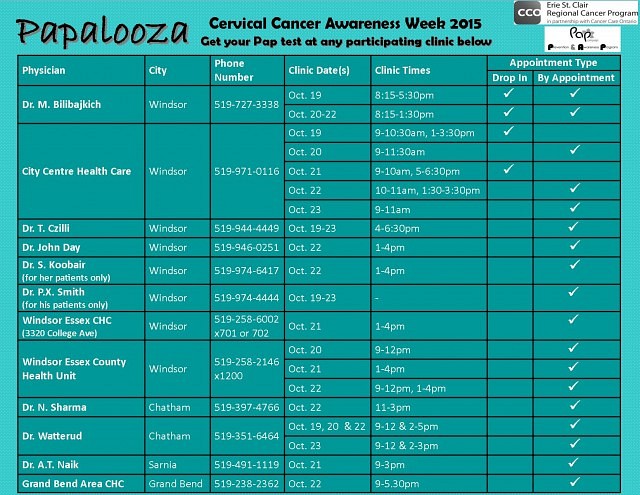 Local health experts urge women in the community to get their Pap test
National Cervical Cancer Awareness Week is October 19-23, 2015 and women are invited to participate in Papalooza! This is a unique opportunity to take advantage of public Pap test clinics offered by Doctor's offices and clinics across our Region.
The Pap test is an excellent way for women to prevent cervical cancer. It is the only way to detect abnormal cells in the cervix which, if left untreated, could develop into cancer. Each year in Canada, 400,000 women receive an abnormal Pap test result, 1,300 to 1,500 women are diagnosed with cervical cancer, and almost 400 women die of this disease. The good news is that since 1996, the incidence of cervical cancer has declined and, since 1995, mortality rates have also decreased. The main reasons for these reductions are improved knowledge, the widespread regular use of Pap test screening, and the availability of HPV vaccination.
For a list of participating Doctor's office and clinics across the Erie St. Clair LHIN please click following link or see attached picture.
Location
Across Erie St. Clair Region
Chatham Kent, Sarnia Lambton & Windsor Essex
Windsor, Ontario