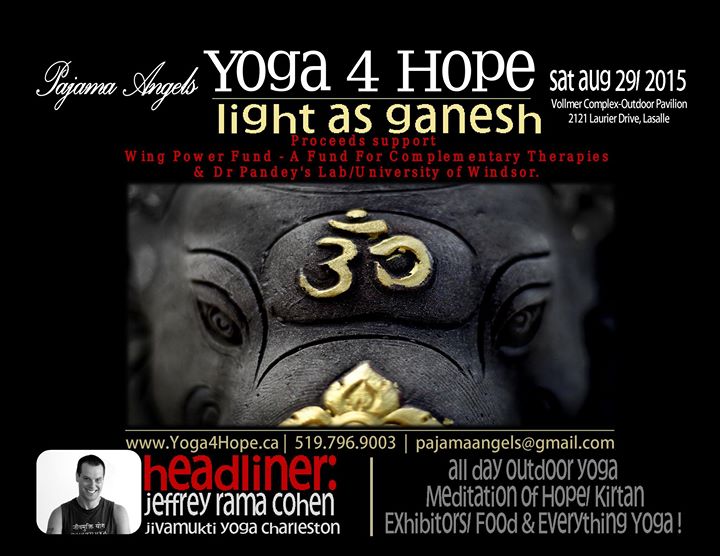 The Pajama Angels Signature: 7th annual All Day Outdoor Yoga Charity Event!
Outdoor Yoga with Local Teachers, Kirtan, Meditation, Exhibitors, Healthy Food & More!
Yoga 4 Hope 2013
Raise $125.00 in Pledges and receive Your VIP OM PASS Ticket and Yoga all day!
Download Pledge Forms Here
http://yoga4hope.ca/pledge-forms/
Announcing Headliner Teacher: Jeffery Rama Cohen (Jivamukti Charleston, SC)
JEFFREY RAMA COHEN teaches yoga worldwide. He has been called authentic, real, and funny. He teaches the international Jivamukti Yoga Teacher Trainings and has certified and mentored hundreds of teachers.
He is a dedicated student of yoga since 1995 and is known to inspire, nurture and motivate with a unique aptitude for revealing the mystical depths of the yoga teachings in a relevant, riveting way.
He is a musician and recording artist with a new album due out this year.
Check out his debut single, "Sometimes Angels" on Youtube.
Michael Franti featured him on his most recent "Artist Spotlight". Music (Nada Yoga) is an integral component of his teaching.
He offers his love, gratitude, and efforts to all his teachers: Supreme to all-his wife Andrea and teachers Sharon Gannon & David Life. He also bows down to the lotus feet of his parents, Ruth Lauer-Manenti, Jack Kornfield, Jayashree & Narasimhan, Ram Dass, Rock n Roll, and the courageous students of yoga.
Event Exhibitor Space
http://yoga4hope.ca/featured-post/be-an-exhibitor/
EXHIBITORS
http://yoga4hope.ca/exhibitors-2015-3/
Event Sponsorship NEW! 200 Insert Grab Bag Option!
http://yoga4hope.ca/sponsorship-form-2015/
SPONSORS
http://yoga4hope.ca/sponsors-2015/
Event Supporting EVENTS
http://yoga4hope.ca/supporting-events-2015/
Event Schedule 2015:
http://yoga4hope.ca/schedule-2015
7:30 am- 6:00 pm Event Co-Emcees: Kelly Henley & Ena Monteleone
7:40 am – 7:55 am Ganesh Invocation: Mary Farrell
8:00 am – 8:55 am Ashtanga 101 Short Form : Gina Wasserlein
9:00 am – 9:55 am Listen To The Little Voices: Mary Farrell
10:00 am-10:55 am Chakras, Music, Mantra & Asana: Kelly D'Souza & Nancy Drew
11:00 am- 11:55 am Embrace Your Inner Elephant: Lora Colautti
12:00 pm – 12:10 pm Meditation of Hope: Jayne Cichon
12:10 pm- 12:55 pm Bhakti Bliss Out: Nancy Drew & Special Guests: Vishnu Blue
1:00 pm- 1:55 pm Mythic Yoga: Candy Donaldson
2:00 pm- 2:55 pm No pride When You Practice: Nena Custodio & Meisa Custodio
3:00 pm- 3:55 pm Eyes Wide Shut: Romano Formicuccia
4:00 pm- 4:55 pm Jivamukti Yoga: Headliner: Jeffrey Rama Cohen
Event Tickets: 3-tiered pricing:
VIP OM PASSES
$50 + NO FEES until July 1,
$55 until August 28,
$60 Day of event!
Event Benefactors: Pajama Angels Wing Power Fund & Dr Pandey's Lab U of W
http://yoga4hope.ca/benefactor/
Event Pledge Forms: Raise $125.00 in Pledges and Yoga All day!
http://yoga4hope.ca/pledge-forms/
YOGA STUDIO MULAH MALA CHALLENGE: Which Studio will covet and house the sacred Mulah Mala for 1 year until the next Yoga 4 Hope?
Be the TOP YOGA STUDIO FUNDRAISER!
http://yoga4hope.ca/the-mulah-mala/
YOGA!
KIRTAN!
EXHIBITORS
HEALTHY FOOD!
EXPANSIVE PRIZE TABLE!
GREAT LOCAL TEACHERS & MORE!
See You on SATURDAY AUGUST 29, 2015 On OUR UNIVERSAL MAT.
NAMASTE.
#WINGPOWERFUND #INTEGRATIVEHEALTH #UNITEDWECURE #YOGA4HOPE2015 #LIGHTASGANESH
Location
2121 Laurier Drive
Windsor, Ontario