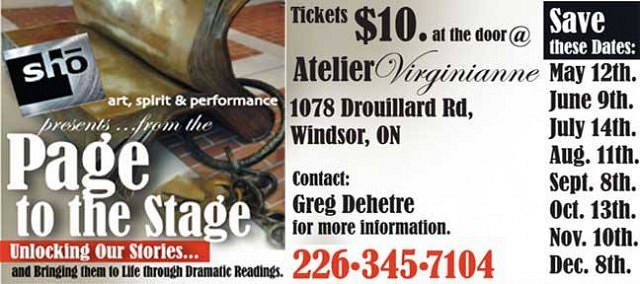 An evening of stories conveyed in a dramatic fashion.
Writers can submit stories to be juried, then read dramatically on stage by an actor.
From the page to the stage will be held at Atelier Virginianne on the second Thursday of every month at 8:00 pm.
Tickets are available at the door for $10. There will be a cash bar and snacks available.
Please contact Greg Dehetre at [email protected] to submit stories, if interested in being a performer, or for more information.
May 12
June 9
July 14
August 11
September 8
October 13
November 10
December 8
Location:
Atelier Virginianne
1078 Drouillard Ave
Windsor, ON
Contact:
Greg Dehetre
[email protected]
226.345.7104
Location
Atelier Virginianne
1078 Drouillard Avenue
Windsor, Ontario