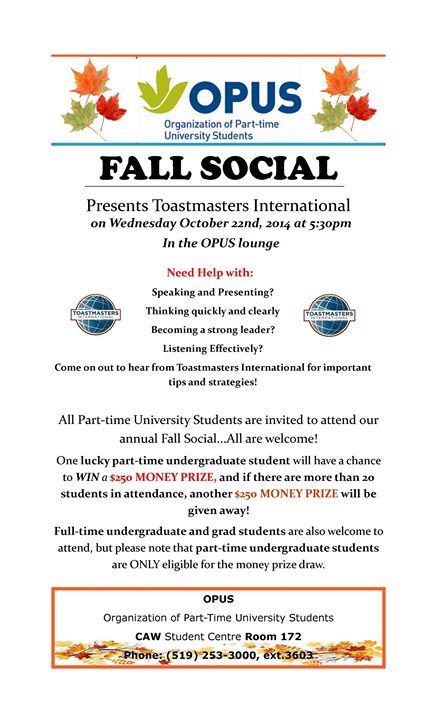 Dear Part-time Students,
The Fall 2014 OPUS Social will be on Wednesday Oct. 22nd, 2014. This event will be held in the OPUS lounge (CAW Student Centre 1st Floor Room 172) from 5:30 PM – 7:00 PM.
Members of Toastmasters International will be the keynote speakers at the event. Toastmasters International is a non-profit educational organization that provides a supportive and positive learning experience in which members are empowered to develop communication and leadership skills, resulting in great self-confidence and personal growth. Interested in developing your speaking and presenting skills, thinking quickly and clearly, or becoming a strong leader? Come on out to hear from Toastmasters International for important tips and strategies!
Free food and drinks will be provided. In addition, one lucky part-time undergraduate student will have a chance to WIN a $250 MONEY PRIZE, and if there are more than 20 students in attendance, another $250 MONEY PRIZE will be given away!
In solidarity,
OPUS Board of Directors and Staff
Organization of Part-time University Students
University of Windsor
C.A.W. Student Centre, 1st Floor rm.172
Windsor Ontario N9B 3P4
Phone: (519) 971-3603
Fax: (519) 971-3623
Email: [email protected]
Web: http://www.uwindsor.ca/opus
https://www.facebook.com/OPUSUWindsor
https://twitter.com/OPUSWINDSOR
Location
CAW Student Centre
401 Sunset Avenue
Windsor, Ontario