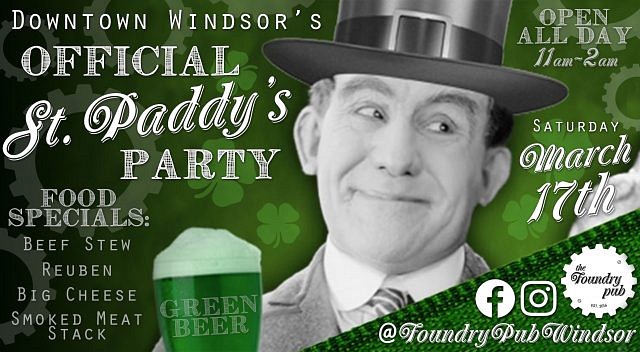 YOU'RE INVITED!
Join us for our 4th Annual St. Paddy's Party!!
The stars have aligned, and St. Patrick's Day is on a Saturday this year… That means you don't have to wait until 5 o'clock… that means you definitely don't need to be up early the next day… we are celebrating ALL DAY & NIGHT!! #GREENLIFE
You DO NOT want to miss out on the BIGGEST St. Patrick's Day party in Downtown Windsor! We'll have kickass Irish music and awesome extras to enjoy! St. Paddy's is our Christmas, and we've been prepping for weeks!
$5 FOOD SPECIALS! Made to order!
-House-made Beef Stew
-Reuben Sandwich
-Big Cheese Sandwich
-Smoked Meat Stack
GREEN BEER ALL DAY!! Straight from your favourite mixologists!
-Green Beer (Delicious. Ice. Cold. Green. Brews!!)
Location
The Foundry Pub
459 Ouellette Avenue
Windsor, Ontario