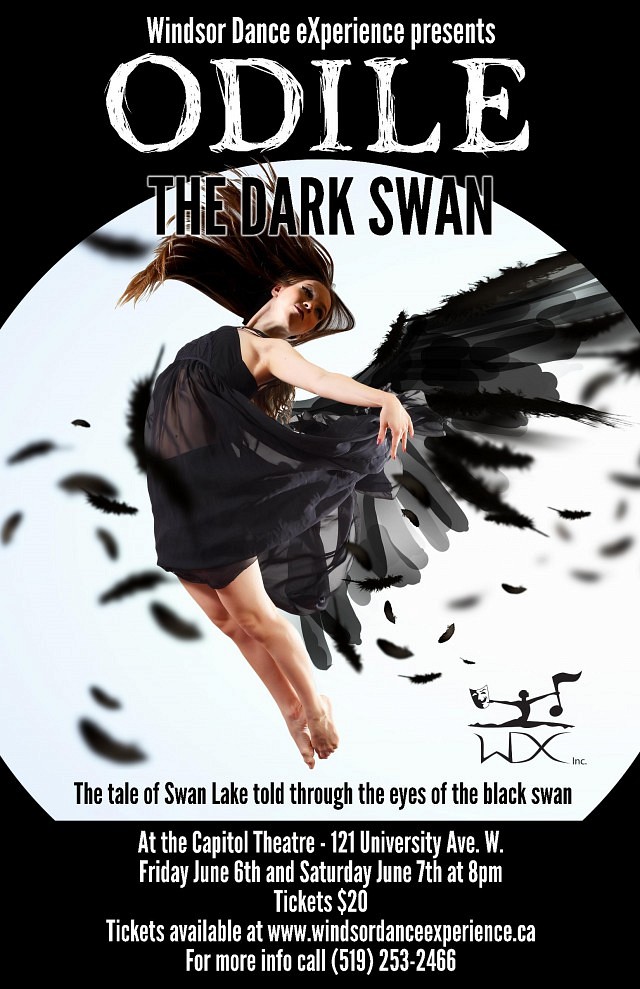 Windsor Dance eXperience Presents:
Odile: The Dark Swan
Friday, June 6 and Sat, June 7 at 8:00 p.m.
Capitol Theatre, 121 University Ave W.
Tickets $20
Available at windsordanceexperience.ca  or 519-253-2466
Before Black Swan the movie, there was Odile: The Dark Swan. Local theatrical dance company, Windsor Dance eXperience Inc., remounts their production, Odile, originally staged in the summer 2005. Inspired by the classic ballet, Swan Lake, it is a tale of dark magic, forbidden love, and corruptive nature of jealousy told entirely through movement. With an eclectic fusing of various styles such as jazz, ballet, modern, and hip-hop, Odile explores new territory beyond the conventional boundaries of dance.
"We love exploring fairytales, popular literary works, and classical ballet, in a new light. Taking something that people have heard or seen so many times and putting our own twist on it. Really challenge their assumptions of what these stories are about. I think it gives our young dancers [ages 12-32] a powerful voice when they can discover similarities between these famous characters and their own lives".
Artistic Director, Tiffany C. Wentzell.
Windsor Dance eXperience Inc. (WDX) is a non-profit theatrical dance company dedicated to giving local youth (ages 6-32) an outlet for their creative and physical activities. Since it's incorporation in 2003, WDX has produced 30 stage productions and have been featured in the Windsor Fringe Festival, the Tecumseh Cornfest, two Windsor Symphony Orchestra Pops Concerts, and in collaboration with Matthew Romain for the Toronto Symphony Orchestra.  
Location
Capitol Theatre
121 University Avenue West
Windsor, Ontario