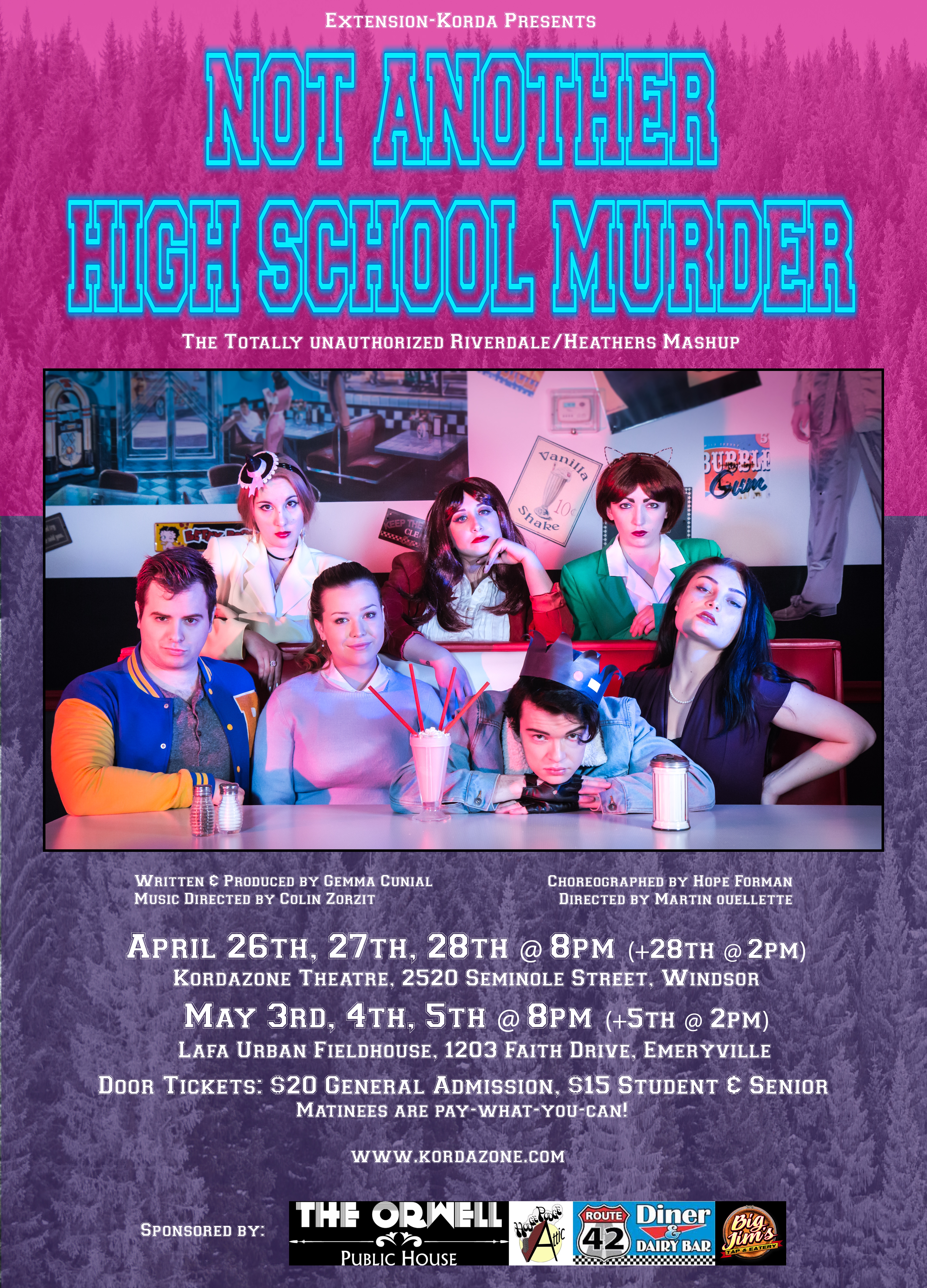 Extension-Korda Presents:
NOT ANOTHER HIGH SCHOOL MURDER!
SYNOPSIS
High school jock, Jason Blossom, has been murdered. It's now up to Jughead (the dramatically damaged wanna-be novelist), Betty (the Riverdale sweetheart), Veronica (the new rich girl from New York City), and Archie (the worst character in the show) to band together to help solve the town's murder and help make Riverdale a safe place to live again.
THE CREW
Written & Produced by Gemma Cunial
Directed by Martin Ouellette
Music Directed by Colin Zorzit
Choreographed by Hope Forman
Assistant Directed/Stage Managed by Nicole Clark
SHOW DATES WEEKEND #1
KORDAZONE THEATRE, WINDSOR (2520 Seminole St)
THURSDAY, APRIL 26 @ 8PM
FRIDAY, APRIL 27 @ 8PM
SATURDAY, APRIL 28 @ 2PM & 8PM
*April 28 matinee is Pay-What-You-Can
SHOW DATES WEEKEND #2
URBAN FIELD HOUSE, LAKESHORE (1203 Faith Dr)
THURSDAY, MAY 2 @ 8PM
FRIDAY, MAY 3 @ 8PM
SATURDAU, APRIL 5 @ 2PM & 8PM
*May 5 matinee is Pay-What-You-Can
TICKETS
Tickets can be purchased at The Orwell Public House, Big Jim's, at the door, and online at eventbrite.ca.
$20 (All advanced tickets)
Online ticket can be purchased at:
(KORDAZONE)
https://www.eventbrite.ca/e/not-another-high-school-murder-windsor-tickets-42719729862?aff=eac2
(URBAN FIELD HOUSE)
https://www.eventbrite.ca/e/not-another-high-school-murder-lakeshore-tickets-42746235140?aff=es2
OR
$20 (At the door, general admission)
$15 (At the door, students and seniors)
*No advanced tickets for Pay-What-You-Can performances
SHOW SPONSORS:
The Orwell Public House
Big Jim's
Route 42
Hodge Podge Attic
Location
KordaZone Theatre
2520 Seminole Street
Windsor, Ontario