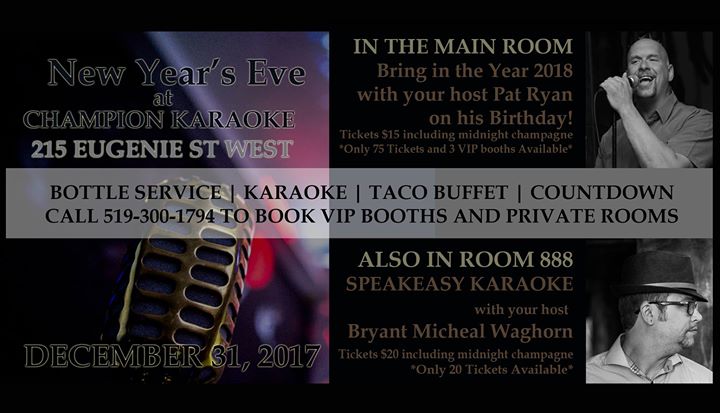 Join us as we sing our way into the new year!🎙🎶🎤
19+ ONLY
At 10PM there will be a Taco Buffet for only $10/person!
EARLYBIRD KARAOKE 6PM-8PM, then starting at 8PM you can choose how you want to bring in the new year:
___________
$15 tickets for Pat Ryan's Birthday / New Year's Celebration, includes midnight champagne, party favors and a seat in the main room, with your host Pat Ryan! – ONLY 75 TICKETS ARE AVAILABLE SO BOOK IT NOW! There will be 3 VIP booths available in the main room including bottle service so be sure to pre-order with your groups of 6-10 people!
CURRENTLY 3 VIP BOOTHS REMAINING IN MAIN ROOM WITH PAT RYAN
___________
$20 tickets for Bryant Micheal Waghorn's Speakeasy Karaoke in VIP ROOM 888 – 1920's prohibition-style attire (fedoras, etc.) is encouraged but not mandatory. Ticketholders will be invited through the back entrance and given a password to enter. – ONLY 20 AVAILABLE SO BOOK IT NOW!
___________
PRIVATE VIP ROOMS will be available with bottle service, with flat rates; deposit required to book the rooms. Please call Bryant at 519.300.1794 for details and to book your private room!
LIST OF VIP ROOMS AVAILABLE (Price will include bottle service):
777 – party of 15-20 recommended
999 – party of 10-15 people recommended
B06 – party of 6-8 people recommended
B05 – party of 6-8 people recommended
B03 – party of 6-8 people recommended
B02 – party of 6-8 people recommended
B01 – party of 4 people recommended
*Deposit required upon reservation of a VIP room or booth.*
TO BOOK CALL 519-300-1794
Location
Champion Karaoke
215 Eugenie Street West
Windsor, Ontario