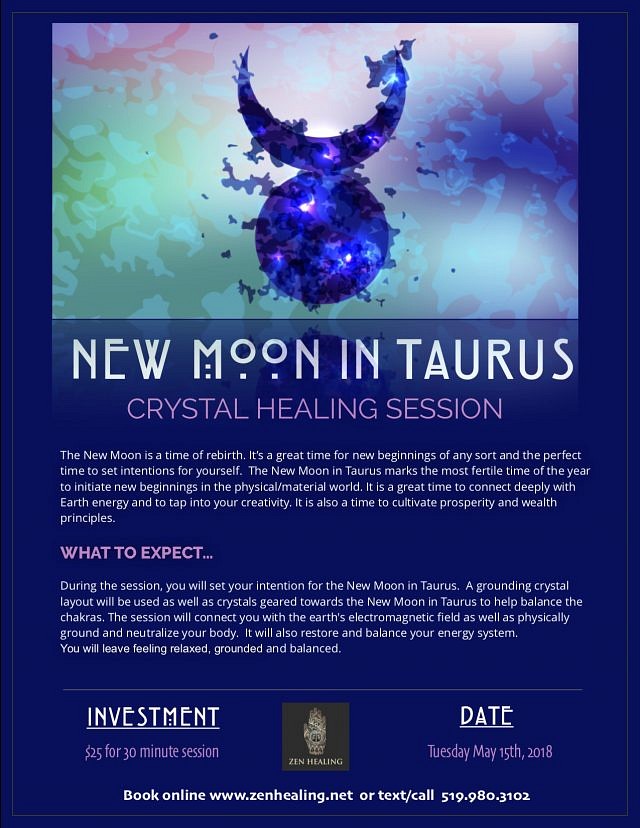 The New Moon is a time of rebirth. It's a great time for new beginnings of any sort and the perfect time to set intentions for yourself.  The New Moon in Taurus marks the most fertile time of the year to initiate new beginnings in the physical/material world. It is a great time to connect deeply with Earth energy and to tap into your creativity. It is also a time to cultivate prosperity and wealth principles.
WHAT TO EXPECT…
During the session, you will set your intention for the New Moon in Taurus. A grounding crystal layout will be used as well as crystals geared towards the New Moon in Taurus to help balance the chakras. The session will connect you with the earth's electromagnetic field as well as physically ground and neutralize your body. It will also restore and balance your energy system. You will leave feeling relaxed, grounded and balanced.
$25 for 30 minute session.
Book online or Text/Call Marsha 519.980.3102
Location
ZEN HEALING
2398 Francois Road
Windsor, Ontario