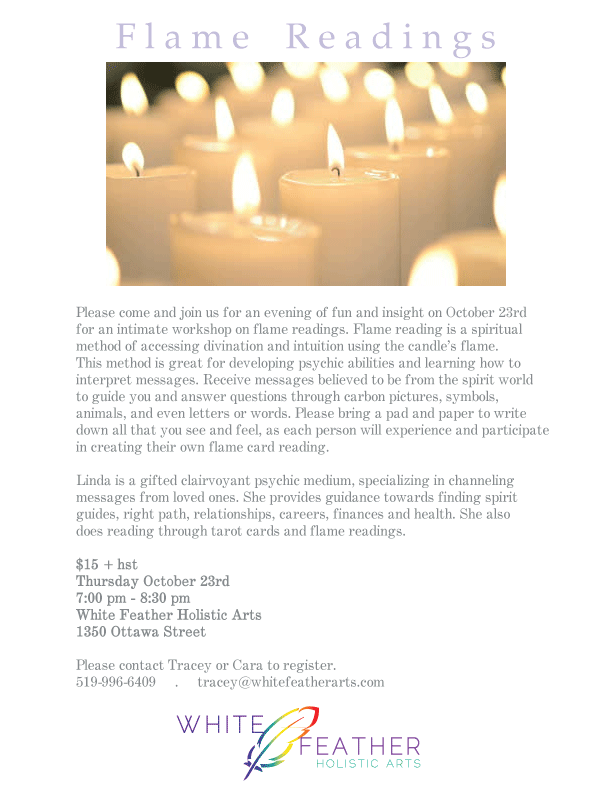 New Moon Flame Readings
With Linda Dumochel
Thursday October 23rd
7pm – 8:30pm
Please come and join us for an evening of fun and insight on October 23rd
for an intimate workshop on flame readings. Flame reading is a spiritual
method of accessing divination and intuition using the candle's flame.
This method is great for developing psychic abilities and learning how to
interpret messages. Receive messages believed to be from the spirit world
to guide you and answer questions through carbon pictures, symbols,
animals, and even letters or words. Please bring a pad and paper to write
down all that you see and feel, as each person will experience and participate
in creating their own flame card reading.
Linda is a gifted clairvoyant psychic medium, specializing in channeling
messages from loved ones. She provides guidance towards finding spirit
guides, right path, relationships, careers, finances and health. She also
does reading through tarot cards and flame readings.
$15 + hst
White Feather Holistic Arts
1350 Ottawa Street
Please contact Tracey to register
519-996-6409
[email protected]
Location
White Feather Holistic Arts
1350 Ottawa Street
Windsor, Ontario