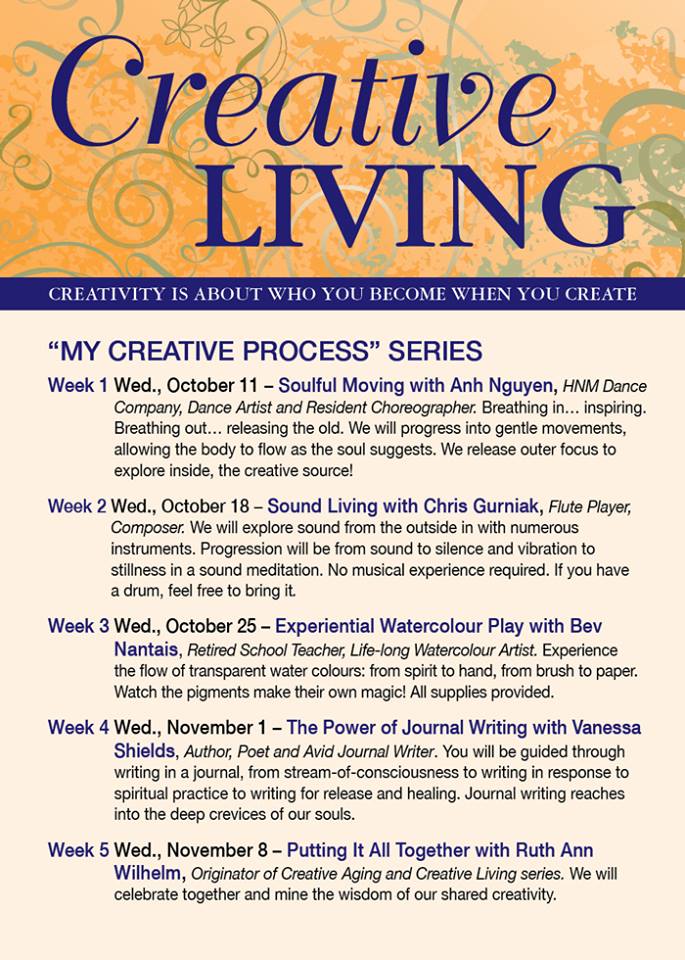 "My Creative Process" Series
Change, a constant in life, can spark your creative urges, lead to new friendships, or the desire to try different experiences. It always implies moving through losses and transitions. Creative self-care is essential to healthy progress with change.
"My Creative Process" consists of five workshops offered by creative forces in our community. Each promises to be engaging, fun and meditative, while encouraging you to play with your self-expression.
Join us Wednesdays 7- 9p.m. from October 11 to November 8, 2017
Atelier Virginianne: 1078 Drouillard Rd, Windsor, ON N8Y 2P8
(The first session only will be at HMN Dance Studio, 1641 Ouellette, Windsor, Access and Parking from Pelissier Street.)
$25 per workshop, or $100 for all 5 evenings
To reserve your spot today, e-mail Ruth Ann Wilhelm with interest at: [email protected]
E-transfer and cheques accepted. Registration is limited to the first 25 people. All ages welcome.
For updates, testimonials, or complete workshop descriptions, search "Ruth Ann's Creative Living" page on Facebook: www.facebook.com/Ruth-Anns-Creative-Living-1418259878223340/
"My Creative Process" Series As Follows:
Week 1: Wed., October 11 – Soulful Moving with Anh Nguyen, HNM Dance Company, Dance Artist and Resident Choreographer. Breathing in…inspiring. Breathing out…releasing the old. We will progress into gentle movements, allowing the body to flow as the soul suggests. We release outer focus to explore inside, the creative source!
Week 2: Wed., October 18 – Sound Living with Chris Gurniak, Flute Player, Composer. We will explore sound from the outside in with numerous instruments. Progression will be from sound to silence and vibration to stillness in a sound meditation. No musical experience required. If you have a drum, feel free to bring it.
Week 3: Wed., October 25 – Experiential Watercolour Play with Bev Nantais, Retired School Teacher, Life-long Watercolour Artist. Experience the flow of transparent water colours: from spirit to hand, from brush to paper. Watch the pigments make their own magic! All supplies provided.
Week 4: Wed., November 1 – The Power of Journal Writing with Vanessa Shields, Author, Poet and Avid Journal Writer. You will be guided through writing in a journal, from steam-of-consciousness to writing in response to spiritual practice to writing for release and healing. Journal writing reaches into the deep crevices of our souls.
Week 5: Wed., November 8 –Putting It All Together with Ruth Ann Wilhelm, Originator of Creative Aging and Creative Living Series. We will celebrate together and mine the wisdom of our shared creativity.
"Creativity is about who you become when you create"
For more information, call: 519-919-7848
Location
Atelier Virginianne
1078 Drouillard Road
Windsor, Ontario