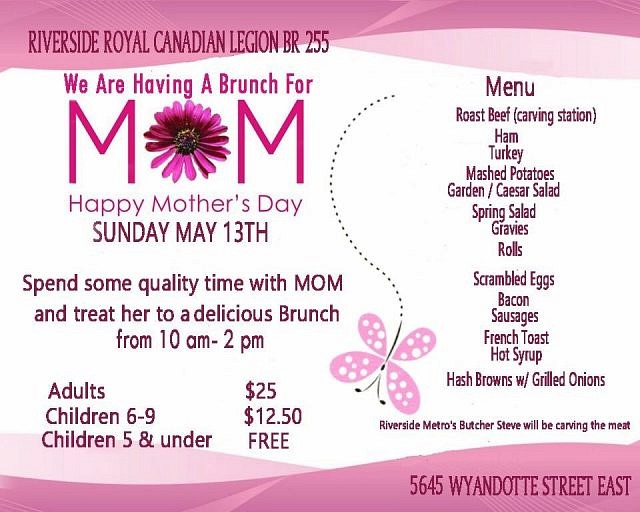 We are doing it up BIG for mother's day with a HUGE Mother's Day Brunch on Sunday May 13th from 10:00 am-2:00 pm
Bring the entire family and Treat mom to a delicious brunch.
We have a spectacular menu planned with a lot of food choices to choose from. It's our biggest brunch yet.
You are gonna love it.
ENJOY
Roast beef Carving station
Ham
Turkey
Gravies
Mashed Potatoes
Garden Salad / Caesar Salad
Spring Salad
Rolls
Scrambled eggs
Bacon
Sausage
French Toast
Hot syrup
Hash Browns w/ Grilled Onions
Tea/ Coffee / Juice.
**+Riverside Metros Best Butcher Steve will be manning the carving station
TICKETS GO ON SALE ON NOW AT THE BRANCH.
Everyone is welcome.
Call 519-945-2012 for details.
#windsor #yqg #mothersdaybrunch #mom #mothersday #momdeservesabreak.
Location
Riverside RCL Br 255
5645 Wyandotte Street East
Windsor, Ontario