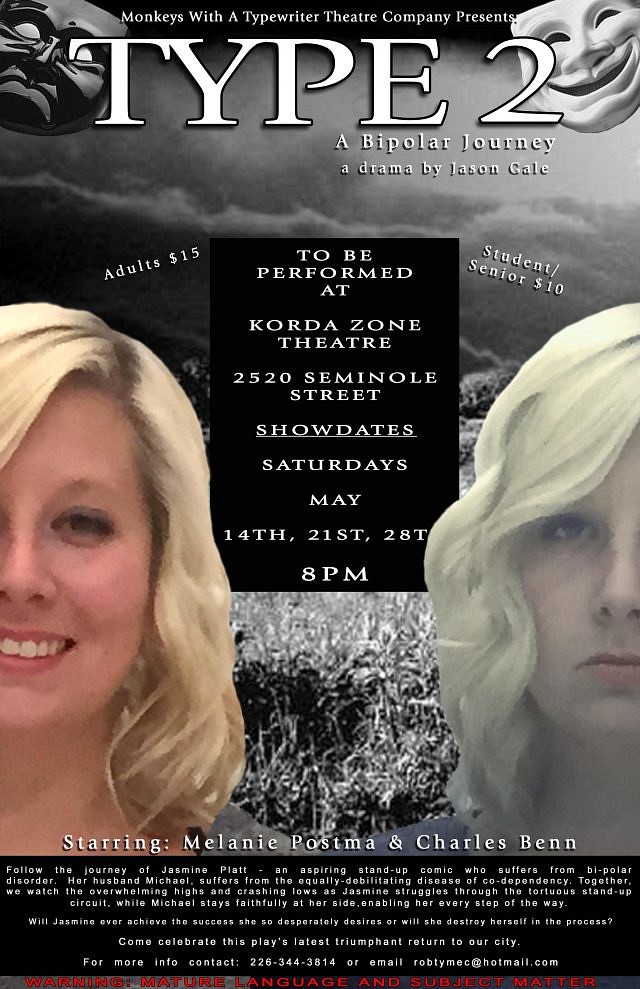 Monkeys With A Typewriter Theatre Company Presents: TYPE 2: A Bipolar Journey. A drama by Jason Gale.
Starring:
Melanie Postma
and
Charles Benn
Showtime: 8PM
Showdates: Saturdays, May 14th, 21st, 28th
Tickets: Adults: $15
Student/Senior: $10
TYPE 2 follows the journey of Jasmine Platt – an aspring stand-up comic who suffers from bi-polar disorder. It is also as much about her husband, Michael, who suffers from the equaly-debilitating disease of co-dependency. Together, we watch them ride the roller coaster of Jasmine's emotional condition. The overwhelming highs and crashing lows hit over and over as Jasmine struggles through the tortuous stand-up circuit. While Michael stays faithfully at her side, enabling her every step of the way.
Will Jasmine ever achieve the success she so desperately desires or will she destroy herself in the process? Will the couple ever find happiness despite the diseases they suffer from?
TYPE 2 – A BIPOLAR JOURNEY has toured extensively through North America and even into Europe. It has received numerous awards and endless praise for its honest portrayal of an illness that effects millions of people across the world. Written by a local author, it premiered right here in Windsor and has been re-mounted several times over the years. Come celebrate its latest triumphant return to our city.
WARNING: MATURE LANGUAGE AND SUBJECT MATTER
For more info, contact: 226-344-3814
or email: [email protected]
Location
Korda Zone Theatre
2520 Seminole Road
Windsor, Ontario