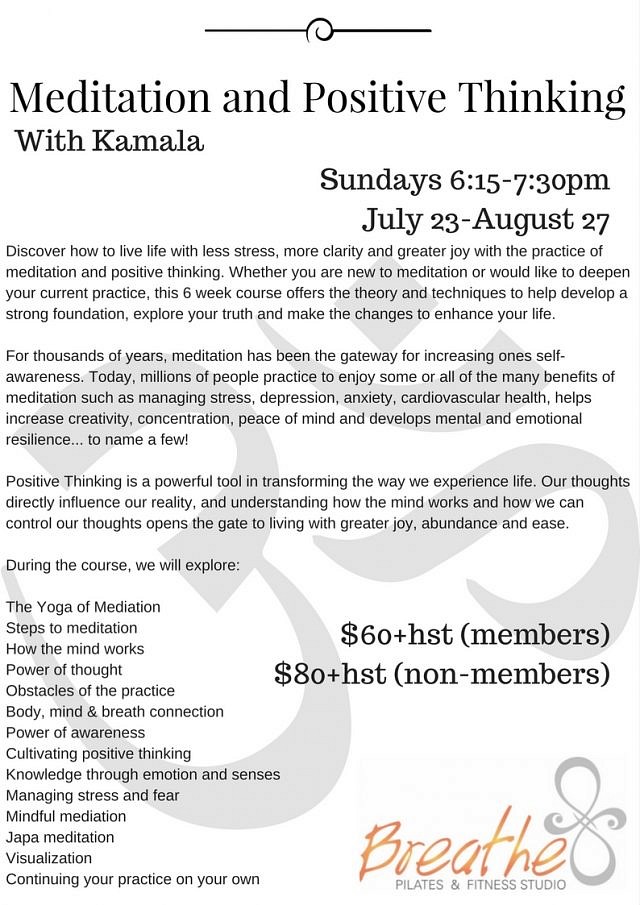 6 week course, Sundays July 23-August 27, 6:15-7:30pm
Discover how to live life with less stress, more clarity and greater joy with the practice of meditation and positive thinking. Whether you are new to meditation or would like to deepen your current practice, this 6 week course offers the theory and techniques to help develop a strong foundation, explore your truth and make the changes to enhance your life.
For thousands of years, meditation has been the gateway for increasing ones self-awareness. Today, millions of people practice to enjoy some or all of the many benefits of meditation such as managing stress, depression, anxiety, cardiovascular health, helps increase creativity, concentration, peace of mind and develops mental and emotional resilience… to name a few!
Positive Thinking is a powerful tool in transforming the way we experience life. Our thoughts directly influence our reality, and understanding how the mind works and how we can control our thoughts opens the gate to living with greater joy, abundance and ease.
During the course, we will explore:
The Yoga of Mediation
Steps to meditation
How the mind works
Power of thought
Obstacles of the practice
Body, mind & breath connection
Power of awareness
Cultivating positive thinking
Knowledge through emotion and senses
Managing stress and fear
Mindful mediation
Japa meditation
Visualization
Continuing your practice on your own
Location
Breathe Pilates and Fitness Studio
420, Kildare Road
Windsor, Ontario