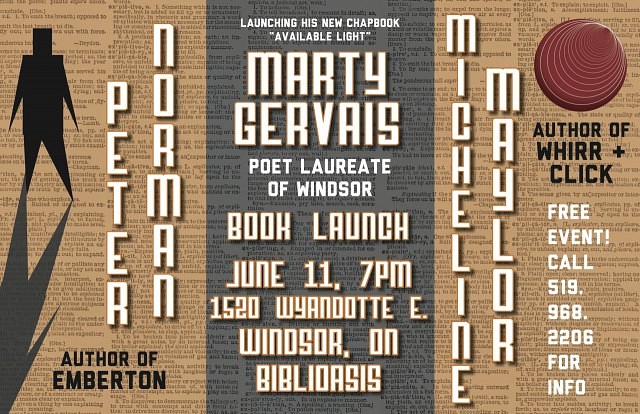 Dear Windsor! We are thrilled to be keeping the great readings rolling into the summer with this last in-house event before we adjourn until Fall, featuring poet Micheline Maylor, poet/novelist Peter Norman, and Windsor Poet Laureate Marty Gervais.
Windsor Poet Laureate and publisher of Black Moss Marty Gervais, author of best-selling local history books Rumrummers and Ghost Road, will be launching his brand-new chapbook, "AVAILABLE LIGHT: Poems from the South Shore".
2014 Pat Lowther Memorial Award Finalist Micheline Maylor will be launching WHIRR & CLICK (Frontenac, 2014), a collection of vividly rendered lyric poems that delve into the realms of memory with gravity and grace.
Peter Norman will be launching his debut novel EMBERTON (Douglas & McIntyre, 2014), a comic gothic thriller featuring an illiterate man who enters the revolving doors of a prestigious dictionary company looking for a job and someone who can finally teach him how to read, and ends up getting far more than he bargained for.
Refreshments and snacks will be available. Poems of élan as well as Kafkaesque puzzles at Biblioasis!
Location
Biblioasis
1520 Wyandotte Street East
Windsor, Ontario