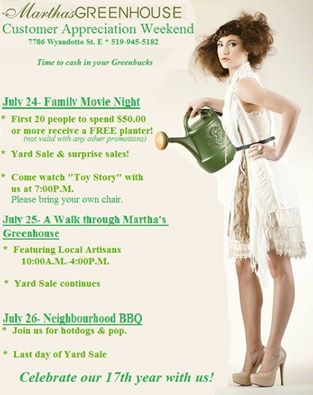 Martha's Greenhouse is hosting our 5th annual Customer Appreciation Weekend!
Come celebrate our 17th year with us!! And don't forget your Greenbucks!!
July 24- Family Movie Night
-First 20 people to spend $50.00 or more receive a FREE
planter!!!
*Not valid with any other promotions*
-Yard Sale and surprise sales!
-Come watch "Toy Story" with us at 7:00P.M.
*Please bring your own chair*
July 25- A Walk through Martha's Greenhouse
-Featuring Local Artisans
*10:00A.M.-4:00P.M.*
-Yard Sale continues
July 26- Neighbourhood BBQ
-Join us for hot dogs & pop!
-Last day of Yard Sale
Location
Marthas Greenhouse
7786 Wyandotte Street
Windsor, Ontario