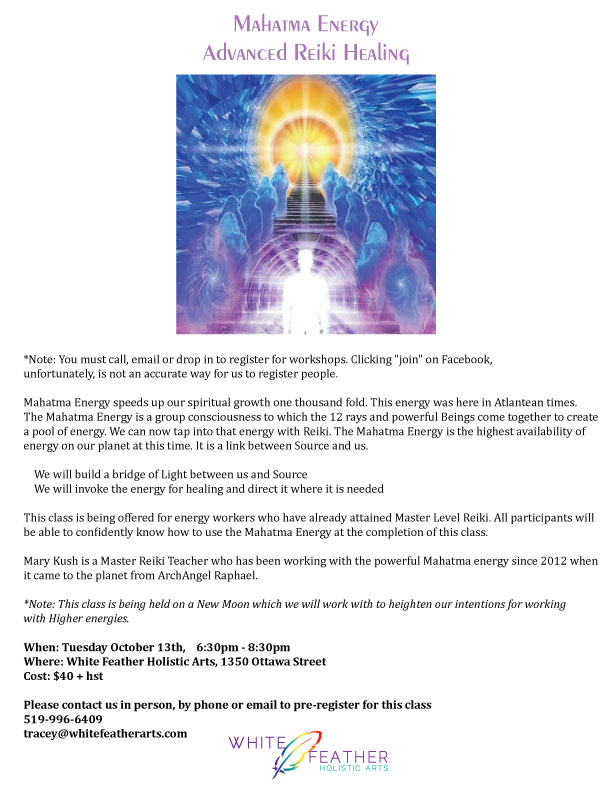 Mahatma Energy: Advanced Reiki
with Mary Kush
*clicking join on Facebook will not register you for this class. Please contact us as per the registration details below
Mahatma Energy speeds up our spiritual growth one thousand fold. This energy was here in Atlantean times. The Mahatma Energy is a group consciousness to which the 12 rays and powerful Beings come together to create a pool of energy. We can now tap into that energy with Reiki. The Mahatma Energy is the highest availability of energy on our planet at this time. It is a link between Source and us.
We will build a bridge of Light between us and Source
We will invoke the energy for healing and direct it where it is needed
This class is being offered for energy workers who have already attained Master Level Reiki. All participants will be able to confidently know how to use the Mahatma Energy at the completion of this class.
Mary Kush is a Master Reiki Teacher who has been working with the powerful Mahatma energy since 2012 when it came to the planet from ArchAngel Raphael.
*Note: This class is being held on a New Moon which we will work with to heighten our intentions for working with Higher energies.
When: Tuesday October 13th, 6:30pm – 8:30pm
Where: White Feather Holistic Arts, 1350 Ottawa Street
Cost: $40 + hst
Please contact us in person, by phone or email to pre-register for this class
519-996-6409
[email protected]
Location
White Feather Holistic Arts
1350 Ottawa Street
Windsor, Ontario