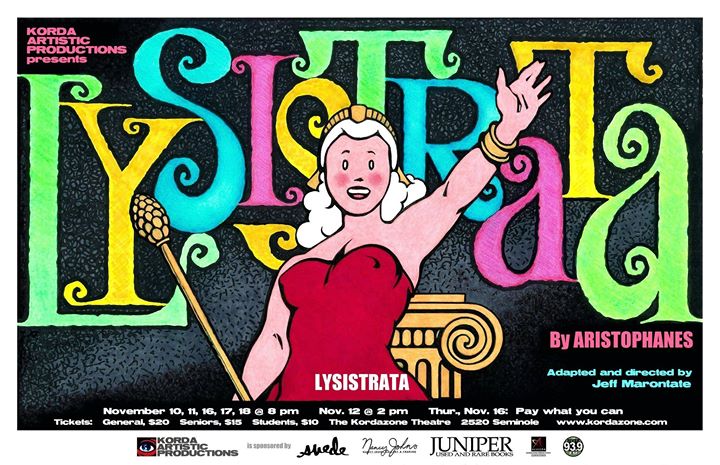 Korda Artistic Productions
presents the classic comic battle of the sexes
LYSISTRATA
SHOW DATES WEEKEND # 1
FRIDAY, NOVEMBER 10th – 8PM – OPENING NIGHT
SATURDAY, NOVEMBER 11th – 8PM
SUNDAY, NOVEMBER 12th – 2PM Matinee
SHOW DATES WEEKEND # 2
THURSDAY, NOVEMBER 16th – 8PM – PAY-WHAT-YOU-CAN
FRIDAY, NOVEMBER 17th – 8PM
SATURDAY, NOVEMBER 18th – 8PM – CLOSING NIGHT
ALL PERFORMANCES AT
The KordaZone Theatre, 2520 Seminole St. Windsor, ON.
TICKETS:
$20 (General Admission)
$15 (Seniors)
$10 (Students and Children)
Call 519-562-3394 to reserve tickets.
Buy tickets at the door 1/2 hour before each show time.
Cash only.
Or Visit our Ticket Outlets:
Cardinal Music. 2569-B Jefferson Blvd. 519-944-5800.
Nancy Johns Gallery. 4755 Wyandotte St. E. 519-945-2222.
SHOW CREDITS:
Written by Aristophanes
Adapted and Directed by Jeff Marontate
SYNOPSIS:
Korda mounts a new production of one of the funniest – and naughtiest – plays ever written: the original anti-war comedy Lysistrata, written by Aristophanes in 411 BC, and newly adapted by Director Jeff Marontate. In this brilliant comedy, the women of Greece stage a sex strike in order to end a bloody war. It's woman versus man in this crazy, sexy, hilarious battle for peace. Based on the success of Korda's previous Lysistrata in 2007 and of Marontate's adaptation of Aristophanes' The Birds in 2014, and on the current political climate, Korda felt it was a timely and important play.
"Lysistrata is a compelling battle of the sexes… Aristophanes wrote comedies of ideas and the one that kicks off Lysistrata is a corker that has become a Greek myth in its own right, thereby earning the author a place at the very top of the class." – The National Post.
THE CAST:
Fay Lynn – Lysistrata
Cindy Lee Kok – Kalonike
Jules Walton – Myrrhine
Autumn Tousignant – Scythaena
Lizz Dietrich – Lampito
Carly Hart – Ismenia
Jennifer Desaulnier – Desma
Koryphaios of Old Men – Zephyr
Draches – Riley Cambpbell
Laches – John Shelhorn
Koryphaios of Old Women – Michele Legere
Stratyllis – Becky Glover
Rhodippe – Sarah Jane Fitzgerald
Drew Beaudoin – Magistrate
Mark Worsley – Kinesias
George Keslo – Cop / Manes / Sentry
Jamal Hamadani – Cop / Baby / Athenian Citizen
J.P. Waters – Kleisthenes
Alex Butler – Cop / Spartan Herald
Colin Zorzit – Cop / Spartan Ambassador
THE CREW:
Directed and adapted by Jeff Marontate
Producer – Tracey Atin
Stage Manager – Misty Habib
Chorus Costumes – Clare Kilpatrick
Poster Art – Daniel Nolin
SHOW SPONSORS: Suede Productions, Allegra Print + Mail Downtown Windsor, Cardinal Music Productions, 93.9FM The River, Nancy Johns Gallery & Framing, and Juniper Used & Rare Books.
Location
Kordazone Theatre
2520 Seminole St
Windsor, Ontario