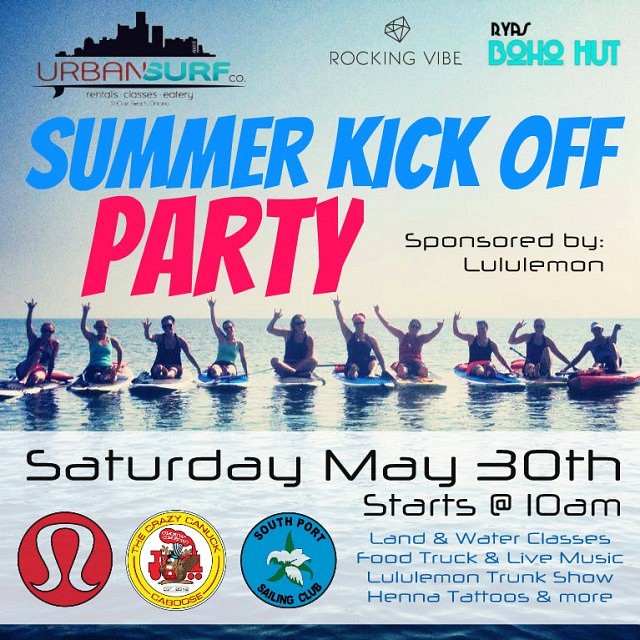 Urban Surf will be offering Free Paddle Boarding Classes, Land Yoga, and Land Fitness classes throughout the day sponsored by Lululemon. We will also have Lululemon Maisonville will be set-up to provide you the ultimate lululemon experience.
They will have their latest clothing set-up for sale and staff members to help find you the best fit. This year Lululemon will be accepting Debit/Credit!
10:00am – 5:30pm (Lululemon Clothes for Sale All Day)
9:00am – 10:00am SUP-FIT
11:30pm – 12:15pm Adrenaline Land Fitness
12:30pm – 1:15pm Urban Surf Land Yoga
1:30pm – 2:30pm SUP FrEeStYlE
3:00pm – 3:45pm Urban Surf Land Yoga
4:00pm – 5:00pm SUP-Yoga
FOOD:
Crazy Canuck (10am – 5pm)
Urban Surf Smoothie Bar (9am – 9pm)
LIVE MUSIC BY:
The Rodger Sister's
ALSO SET-UP:
Rya's BoHo Hut
Rocking Vibe
South Port Sailing Club
Henna Tattoo's by Salina
Precision Hair Design
The event organizer is providing tickets for this event via an external ticket provider. Please click the button below to obtain tickets.
Location
Urban Surf Company
55 East Pike Creek
Tecumseh, Ontario